Breakfast Chicken Sausages
Chicken and waffles? Sausage and eggs? Try them with Lilydale® Chicken Breakfast Sausages! No nitrifies, 35% less fat and 35% less calories than regular pork breakfast sausage. Lilydale® Chicken Sausages are a lighter alternative to your favourite breakfast.
Chicken, Water, Cultured Corn Sugar, Dextrose, Salt, Sodium Citrate, Vinegar, Spice, Sodium Erythorbate, Natural Flavour, Citric Acid. In A Collagen Casing.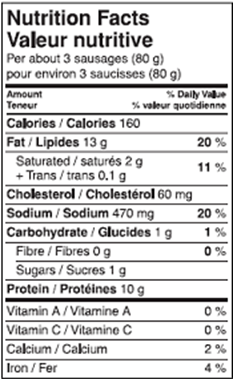 Refer to the package for the most accurate and up to date ingredients and nutritionals.
Recipes Featuring Breakfast Chicken Sausages
Love Breakfast Chicken Sausages?
Try these products.