Turkey Carnitas Quesadillas
With yummy Tex-Mex flavours, these meaty turkey quesadillas are saucy, tangy and oh-so-tasty.
1 box

3/4 cup ( 175 mL)

sodium reduced chicken broth

1/2 cup (125 mL)

pineapple juice

1/2 cup (125 mL)

orange juice

2 tbsp (30 mL)

lime juice

4

large tortillas (10 inch/25 cm)

1/3 cup (75 mL)

red onion, thinly sliced

1

jalapeno pepper, thinly sliced

1 1/2 cups (375 mL)

shredded Monterrey Jack cheese

1/4 cup (60 mL)

olive oil

1 cup (250 mL)

salsa Verde

1 cup (250 mL)

sour cream
Cook Lilydale® Turkey Breast Strips according to package directions and thaw Hickory Smoked Barbecue sauce according to package instructions.
In saucepan, combine chicken broth, pineapple juice, orange juice and lime juice; bring to boil. Stir in cooked Lilydale® Turkey Breast Strips and Hickory Smoked Barbecue sauce. Cover and bring to simmer. Reduce heat to medium-low; cook, uncovered, for 10 to 15 minutes or until turkey is heated through, very tender and mixture is thickened and saucy.
Spoon cooked a href="/products/frozen/turkey-breast-strips/">Lilydale® Turkey Breast Strips with the sauce over 2 tortillas. Top with onions, jalapeño and cheese. Cap with remaining tortillas.
Heat half of the oil in large skillet set over medium heat; brown quesadillas in batches for 2 to 3 minutes per side or until golden brown and crisp, adding remaining oil as needed. Cut into wedges and serve with salsa Verde and sour cream.
Substitute guacamole for sour cream if desired.
Use whole-grain tortillas if desired.


Recipe Overview
SERVES: 2
PREP TIME: 10 minutes
COOK TIME: 20 minutes
TOTAL TIME: 30 minutes
Products in this Recipe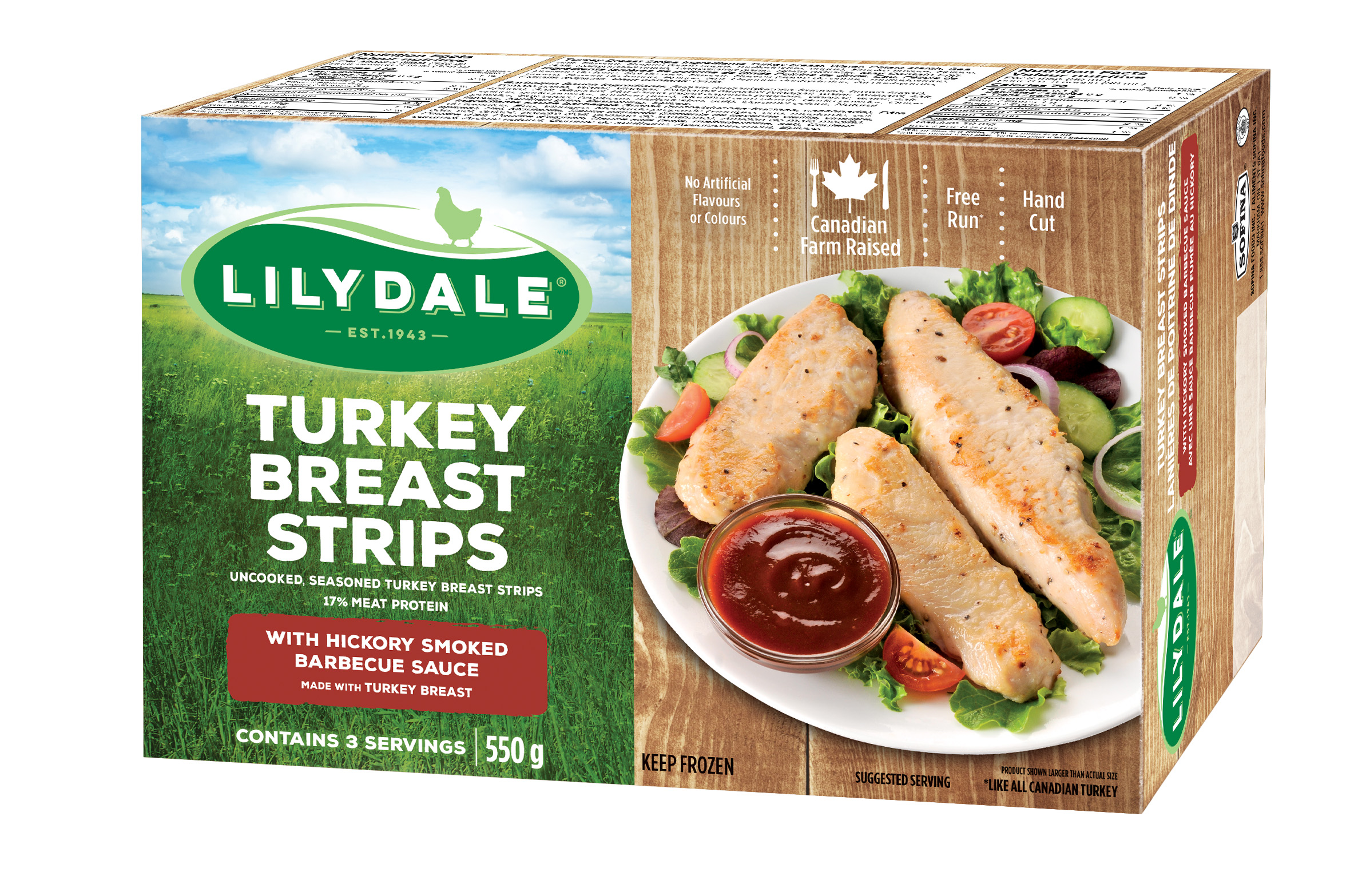 Turkey Breast Strips