Turkey Spinach Salad & Turkey Parm Sandwich
Get dinner on the table in a snap with our tender juicy Turkey Cutlet.  Made with Canadian turkey breast our cutlets are a great chopped in a salad and served  whole on a sandwich.
1 box (600 g)

2/3 cup (150 mL)

Mastro® Extra Virgin Olive Oil

1/3 cup (75 mL)

lemon juice

1 tsp (5 mL)

salt

1 tsp (5 mL)

freshly ground pepper

4 cups (500 mL)

fresh baby spinach, washed & dried

10

cherry tomatoes, halved

2 tbsp (30 mL)

crumbled goat cheese

1

ciabatta bun, sliced in half

4 tbsp (60 mL)

prepared marinara sauce

4 tbsp (60 mL)

mozzarella cheese, shredded

parmesan cheese, grated

fresh basil, chopped (garnish optional)
Cook Lilydale® Turkey Cutlets according to package directions.
To make the salad dressing: in a bowl, combine Mastro® Extra Virgin Olive Oil, lemon juice, salt and pepper. Stir and set aside.
In a salad bowl, place baby spinach and cherry tomatoes. Sprinkle with goat cheese and drizzle with salad dressing.
Once Lilydale® Turkey Cutlets are cooked and warm to handle, slice 3 cutlets into bite size pieces. Place bite size turkey cutlet pieces on top of salad and set aside.
Pre-heat oven to 425°C.
Place the sliced ciabatta bun with cut side up on baking sheet and top with cooked Lilydale® Turkey Cutlets, half of the marinara sauce and half of the mozzarella cheese. Repeat with other sandwich ingredients.
Place buns with turkey in oven for 5 to 10 minutes till mozzarella cheese is fully melted. Top with Parmesan cheese and garnish with fresh basil. Serve with Turkey Spinach Salad.
Recipe Overview
SERVES: 2
PREP TIME: 10 minutes
COOK TIME: 30 minutes
TOTAL TIME: 40 minutes
Products in this Recipe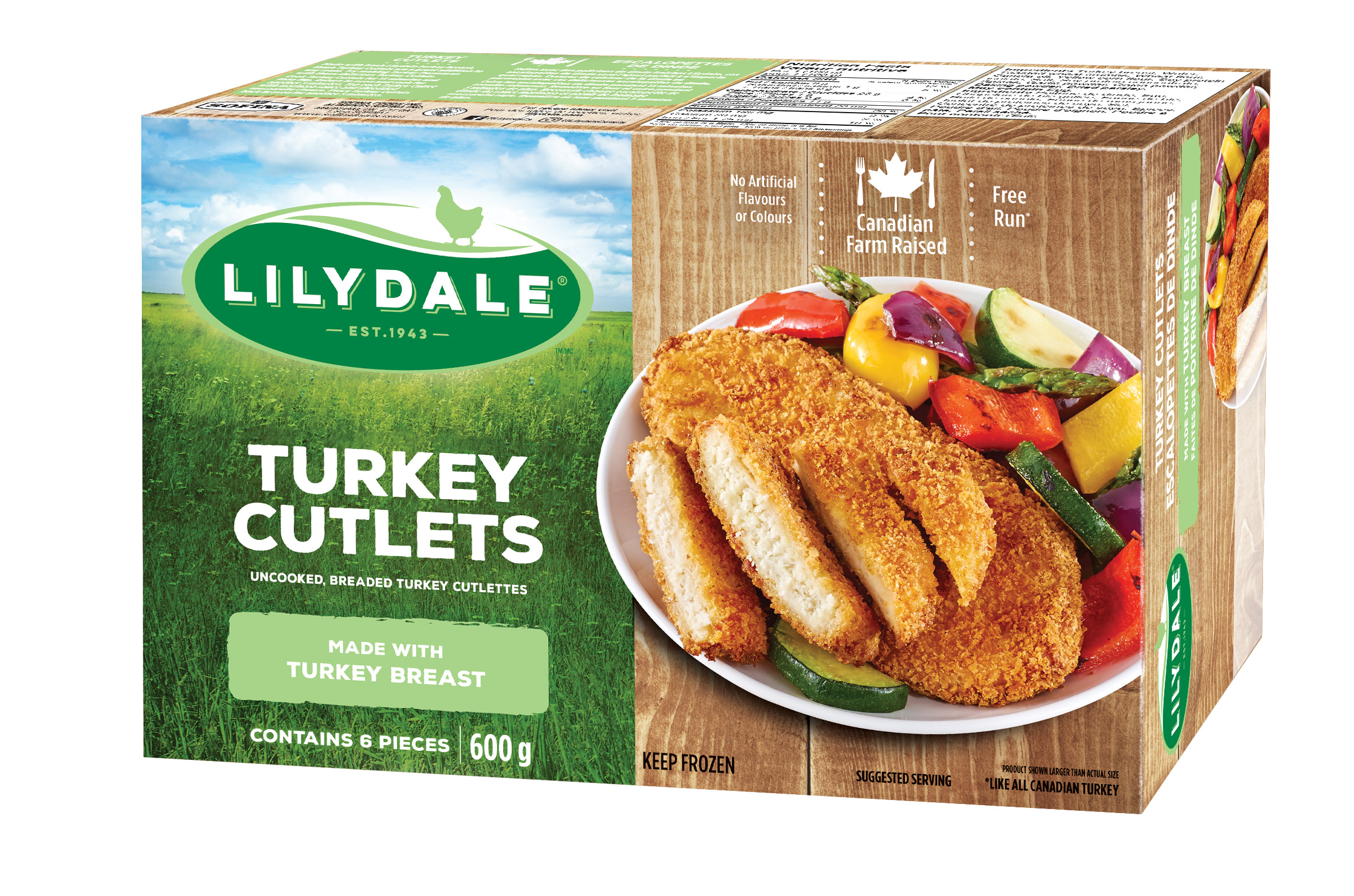 Turkey Cutlets