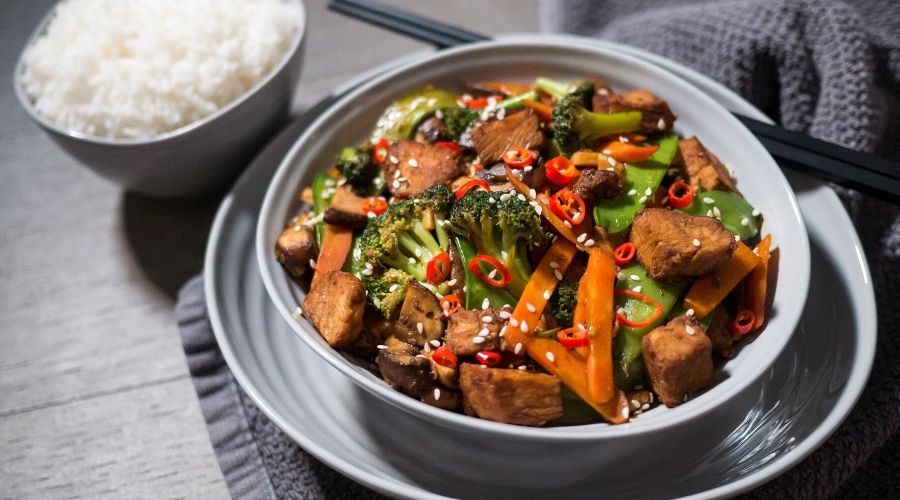 Chicken Stir-Fry
This is far from your typical stir-fry – enjoy the unique blend of spicy chillis and subtle sweetness of maple syrup for a dish that's far from ordinary.
1 packages (2 x 150 g)

2 cups (500 mL)

broccoli florets, cut into 1.5" x 5" pieces

1

small carrot

2 cups (500 mL)

snow peas, strings removed

1 cup (250 mL)

cremini mushrooms, sliced

3

garlic cloves, diced

1

red chili pepper, sliced

1 tbsp (15 mL)

Oyster sauce

1 tbsp (15 mL)

dark soy sauce

1 tbsp (15 mL)

Maple syrup or 1 tsp of sugar

1 tbsp (15 mL)

Chinese cooking wine

1/2 tsp (2.5 mL)

Cornstarch mixed with 2 tbsp water

2 tbsp (15 mL)

cooking oil

sesame oil

toasted sesame seeds

black pepper
Preheat your oven to 300°F.
Cut Lilydale®Oven Roasted Carved Chicken Breast Strips into smaller strips.
In a pot of boiling water add the broccoli florets and cook for 1 minute. After 1 minute, take broccoli out and rinse in icy cold water. Drain well. Set aside.
Heat a skillet to medium-high heat and add 1 tbsp of cooking oil and stir-fry the garlic until fragrant. Add Lilydale®Oven Roasted Carved Chicken Breast Strips pieces and 1 sliced chili pepper to the pan. Cook, stirring occasionally, for 2 minutes. Add carrots, snow peas and mushrooms. Cook an additional 3 minutes. Add broccoli florets. Continue to cook until all the ingredients. Set aside.
In a bowl, mix oyster sauce, dark soy sauce, chinese wine, maple syrup (or sugar) and black pepper together.
Add the sauce into the skillet with the chicken and vegetables and stir until all the ingredients are well mixed. Then add the cornstarch and water mixture to thicken the sauce. Turn off heat and drizzle a few drops of sesame oil. Sprinkle over roasted sesame seeds and serve with steamed white rice.
Recipe Overview
SERVES: 2
PREP TIME: 10 minutes
COOK TIME: 20 minutes
TOTAL TIME: 30 minutes
Products in this Recipe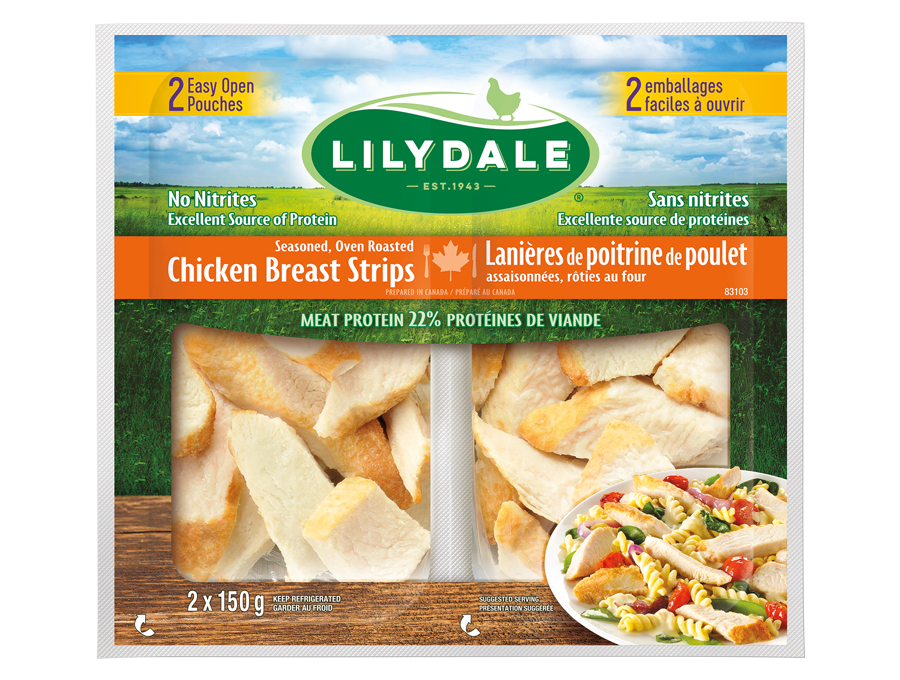 Oven Roasted Chicken Breast Strips