Baked Turkey Sausage Nachos
Prepared with easy homemade pita chips, these tasty and healthy nachos are sure to please any hungry crowd.
1 package (375 g)

4

pita pockets (7 inches/18 cm)

1/3 cup (75 mL)

olive oil

1 tsp (5 mL)

lime zest

1 tsp (5 mL)

salt

1/2 tsp (2 mL)

ground black pepper

1/4 tsp (1 mL)

ground cumin

1 1/4 cups (300 mL)

Monterey Jack cheese

1 cup (250 mL)

black beans

1/2 cup (125 mL)

diced red pepper

3

green onions, thinly sliced

1

jalapeno, thinly sliced

2

radishes, thinly sliced

1 cup (250 mL)

salsa

1 cup (250 mL)

guacamole
Preheat oven to 375°F (190°C). Cut each pita pocket into 8 wedges; split apart into 64 triangles. Toss together pita triangles, 1/4 cup (50 mL) oil, lime zest, salt, pepper and cumin until well mixed.
Arrange pita triangles in single layer on two large baking sheets. Bake, rotating pans halfway through, for 8 to 10 minutes or until golden brown and crisp. Let cool completely. Store in airtight container for up to 2 days.
Increase oven to 400°F (200°C). Heat remaining oil in large sauté pan; cook Lilydale®Turkey Breakfast Sausage for 8 to 10 minutes or cooked through to an internal temperature of 165°F (74°C) . Let cool completely.
Arrange pita chips close together on parchment paper–lined baking sheet. Scatter Lilydale®Turkey Breakfast Sausage , cheese, black beans, red pepper and green onions over top.
Bake for 5 to 7 minutes or until cheese is melted. Before serving, top nachos with jalapeño and radishes. Serve with salsa and guacamole.
Substitute pinto or kidney beans for black beans if desired.
Alternatively, serve with Tzatziki sauce instead of salsa and guacamole.




Recipe Overview
SERVES: 6
PREP TIME: 10 minutes
COOK TIME: 20 minutes
TOTAL TIME: 30 minutes
Products in this Recipe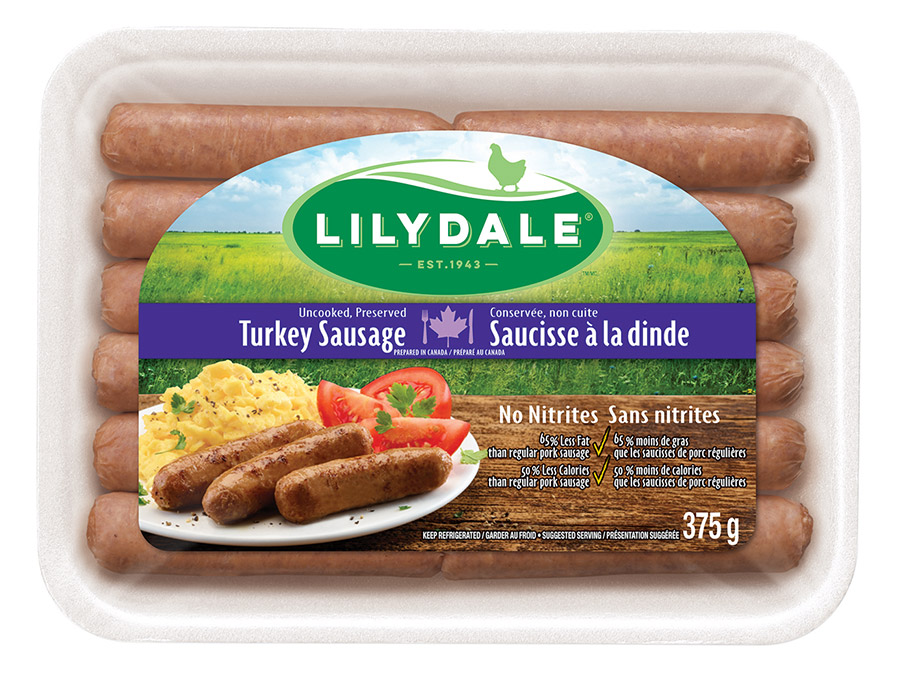 Breakfast Turkey Sausages