East Coast Chicken Roll
The classic lobster sandwich has been transformed with tender, juicy pieces of Lilydale® Oven-Roasted Chicken Breast. It's a quick and easy lunch that's ready to serve in just 15 minutes!
1 pkg (300 g)

1/3 cup (75 mL)

light mayonnaise

2 tbsp (30 mL)

lemon juice

2 tsp (10 mL)

Dijon mustard

2

green onions, finely chopped

1

stalk celery, finely chopped

2 tbsp (30 mL)

fresh parsley, chopped

1/4 tsp (1 mL)

ground pepper

2 tbsp (30 mL)

butter, softened

1/4 tsp (1 mL)

celery salt

4

long artisan buns

8

Bibb lettuce leaves

2 tbsp (30 mL)

fresh parsley, chopped
In large bowl, stir together mayonnaise, lemon juice and mustard. Add Lilydale® Oven Roasted Carved Chicken Breast Strips, green onions, celery, parsley and pepper; toss to coat evenly. Set aside.
Blend butter with celery salt until well combined; spread over outside of buns. Toast buns in skillet set over medium heat for 1 to 2 minutes per side or until golden brown.
Line each bun with lettuce. Fill with chicken mixture. Serve immediately.
Serve in a plastic basket with kettle chips and a lemon wedge for an authentic presentation.

Turn these rolls into a hearty appetizer by serving in mini top-split buns or small dinner rolls.

Recipe Overview
SERVES: 4
PREP TIME: 10 minutes
COOK TIME: 5 minutes
TOTAL TIME: 15 minutes
Products in this Recipe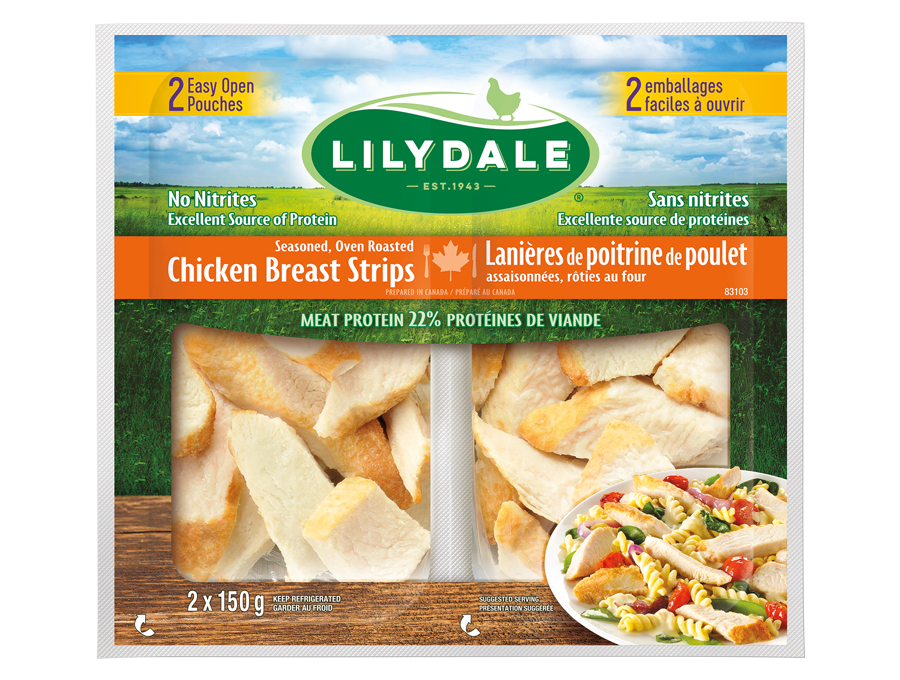 Oven Roasted Chicken Breast Strips