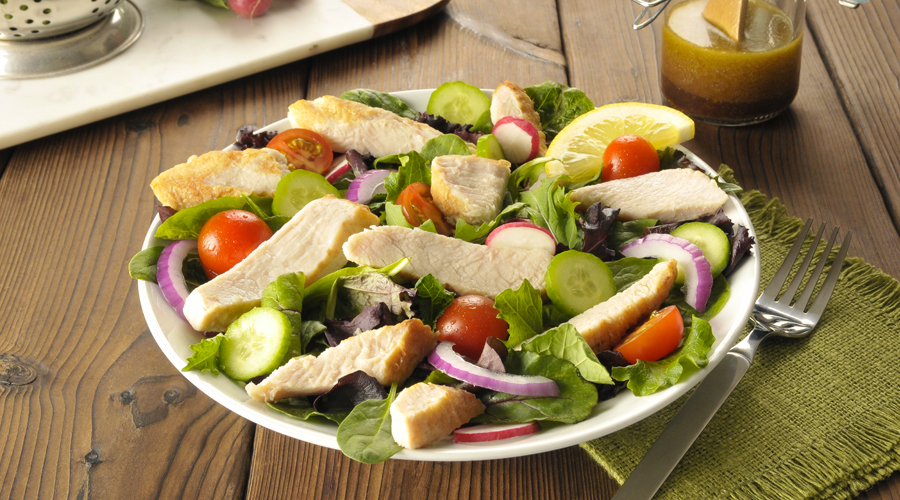 Field Greens with Turkey and Lemon Balsamic Dressing
This fresh and colourful salad features tender strips of turkey, all dressed with a zesty lemon balsamic dressing – perfect for lunch or dinner.
1 package (300 g)

2 - 4 cups (500 mL - 1000 mL)

field greens, washed

8-10

cherry or grape tomatoes, halved

1/4

small red onion, cut into thin slices

2

radishes, cut into thin slices

1

mini cucumber, cut into thin slices

2 tsp (10 mL)

feta or goat cheese, crumbled

Lemon Dressing

1/4 cup (59 mL)

extra virgin olive oil

2 tbsp (30 mL)

balsamic vinegar

2 tbsp (30 mL)

fresh lemon juice

1 tbsp (15 mL)

honey

1/2 tsp (2.5 mL)

sea salt

1/2 tsp (2.5 mL)

black pepper

1/2 tsp (2.5 mL)

lemon zest
For the salad, start by placing the field greens in a bowl then top with all fresh ingredients. Once assembled top with Lilydale®Oven Roasted Carved Turkey Breast Strips. Gently toss all ingredients together and divide between 2 bowls. Top each with 1 teaspoon of crumbled Feta or Goat cheese.
For the dressing, whisk together all of the ingredients for the Lemon Balsamic Dressing and drizzle on top of salads.
Garnish with slice of lemon.
To make this salad for a larger group just double all the ingredients including the dressing.


Recipe Overview
SERVES: 2
PREP TIME: 15 minutes
TOTAL TIME: 15 minutes
Products in this Recipe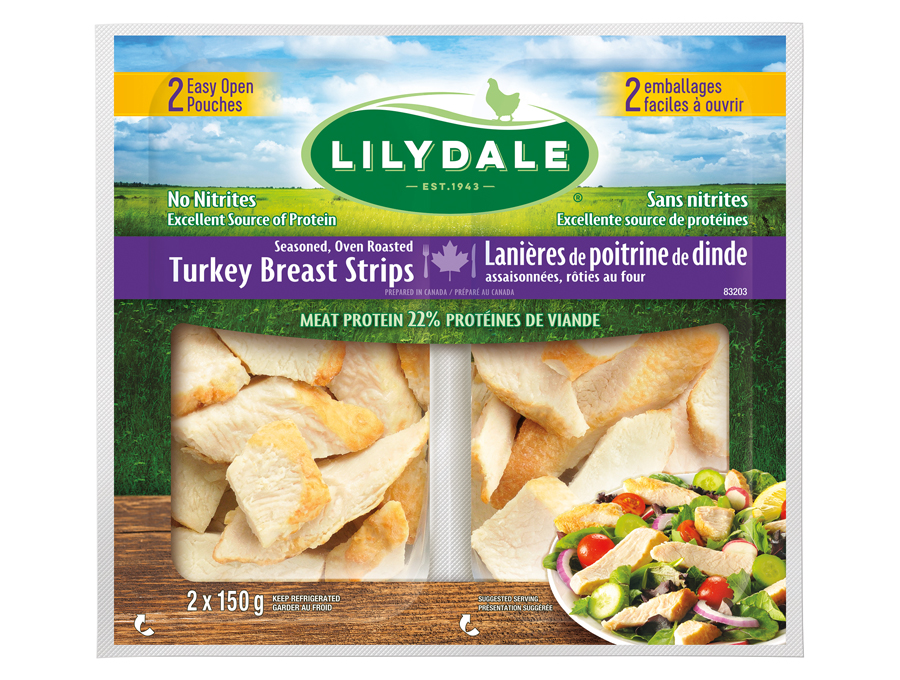 Oven Roasted Turkey Breast Strips