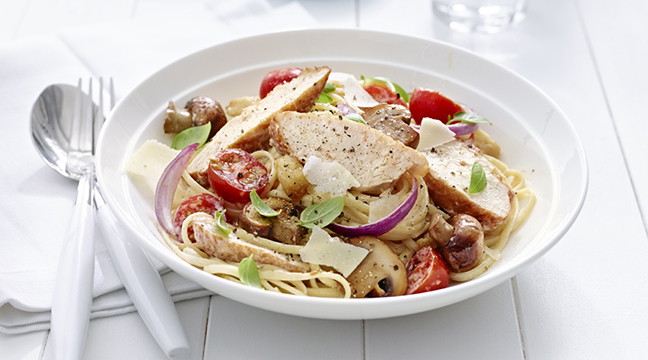 Chicken Linguini
Perfect combination of fresh basil, garlic roasted tomatoes and Lilydale® Oven Roasted Cared Chicken slices.  An easy weeknight dinner that everyone will love.
1 cup (250 mL)

uncooked pasta of choice

3 tbsp (44 mL)

extra-virgin olive oil

2

medium onions, diced

1 tsp (4 mL)

salt

1/2 tsp (2 mL)

ground black pepper

3

cloves of garlic, minced

1 cup (250 mL)

button mushrooms, sliced

1/3 cup (78 mL)

dry red wine

1/2 pkg (150 g)

3/4 cup (177 mL)

fresh parsley and oregano, chopped

1

28 ounce can crushed tomatoes

1 cup (250 mL)

fresh basil leaves, thinly sliced

1/2 cup (125 mL)

freshly grated Pecorino Romano or Parmesan Cheese
Cook the pasta according to the package directions.
Meanwhile, heat the oil in a large saucepan over medium heat. Add the onions, ½ teaspoon of the salt, and ¼ teaspoon of the pepper and cook, covered, until the onions are softened, about 8 minutes.
Add the garlic and mushrooms and cook, covered, for 6 minutes more.
Add the wine and cook, uncovered, for 3 minutes.
Stir in chopped herbs, and remaining salt and pepper, and cook for 4 minutes. Add tomatoes and heat through. Stir in basil and Lilydale® Oven Roasted Carved Chicken Breast.
Transfer the pasta to plates, spoon the sauce over the top, and sprinkle with the cheese.
Recipe Overview
SERVES: 4
PREP TIME: 15 minutes
COOK TIME: 15 minutes
TOTAL TIME: 30 minutes
Products in this Recipe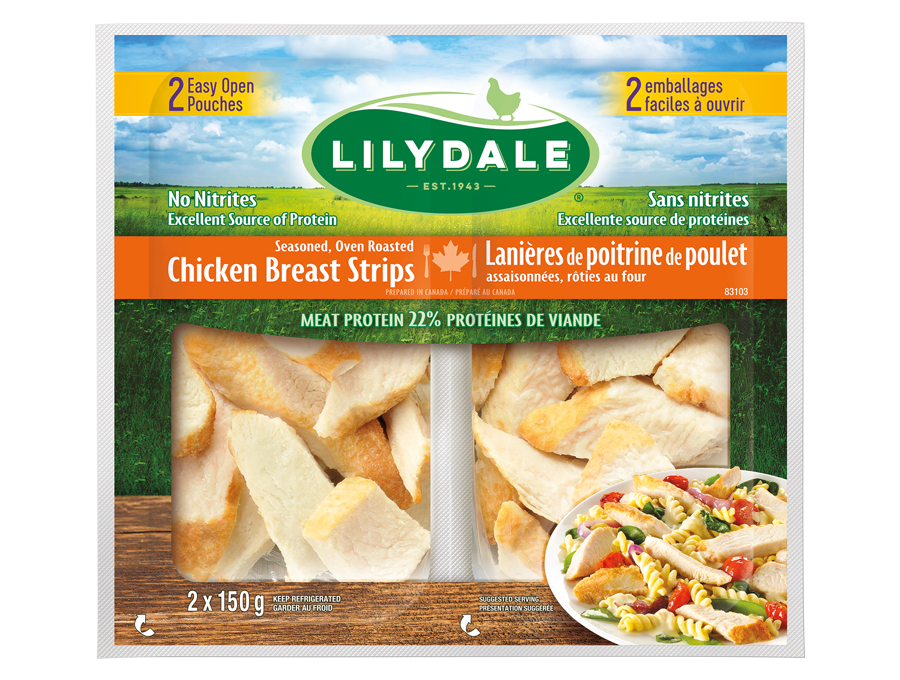 Oven Roasted Chicken Breast Strips