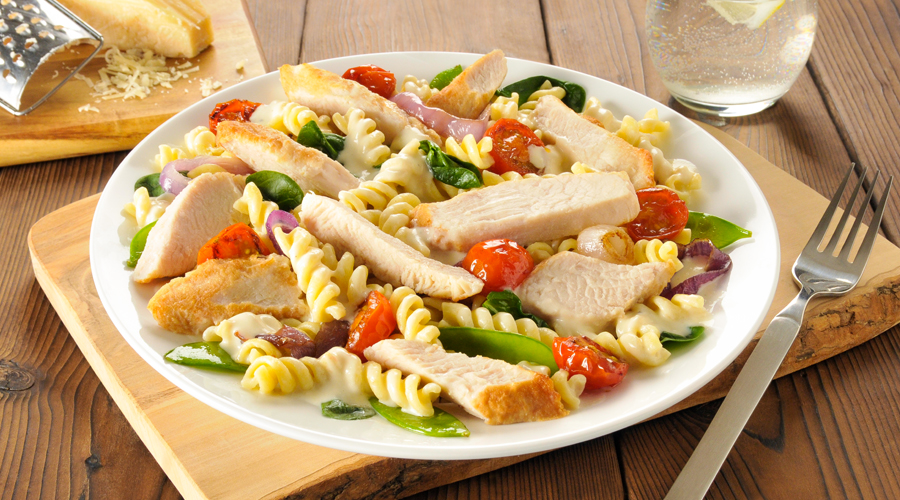 Easy Alfredo Chicken and Vegetable Fusilli
Dig in to this flavourful pasta dish loaded with delicious fresh veggies, tender strips of chicken breast and creamy Alfredo sauce.  Delicious hot or cold.
1 package (300 g)

1 cup (250 g)

prepared Alfredo sauce

2 cups (500 mL)

fusilli, cooked

1 tbsp (15 mL)

olive oil

1/2 cup (125 mL)

snow peas, washed

10

cherry tomatoes, washed and cut in half

1/2

small red onion, peeled and sliced

3/4 cup (375 mL)

fresh baby spinach, washed

2 tbsp (30 mL)

Parmesan cheese, grated

basil sprigs for garnish (optional)
Prepare fusilli in a large pot as per package directions. Drain and set aside.
Heat olive oil in a large pan, and sauté the snow peas, cherry tomatoes, and the slices of red onion for 3-4 minutes. Add the Lilydale®Oven Roasted Carved Chicken Breast Strips and sauté for one more minute. Remove from heat and set aside.
In a small saucepan, heat the Alfredo sauce.
Place the vegetables and Lilydale®Oven Roasted Carved Chicken Breast Strips into the pot with the fusilli. Pour in the Alfredo sauce and stir gently. Add the fresh spinach and stir gently again.
Divide between 4 bowls and garnish with Parmesan Cheese and basil sprigs.
To make the pasta for a larger group simply double the recipe.

Recipe Overview
SERVES: 2
PREP TIME: 10 minutes
COOK TIME: 10 minutes
TOTAL TIME: 20 minutes
Products in this Recipe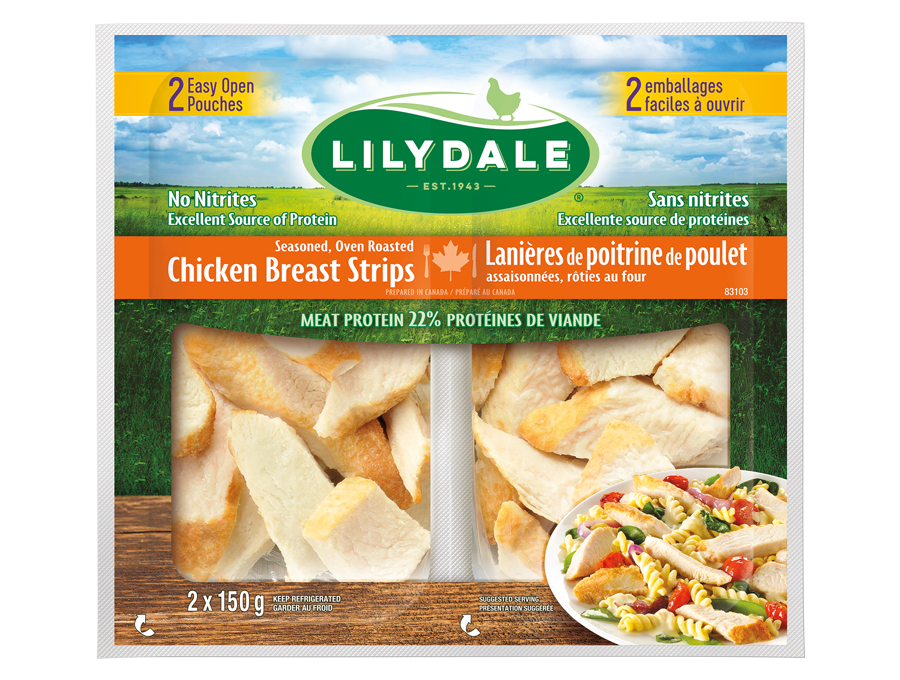 Oven Roasted Chicken Breast Strips