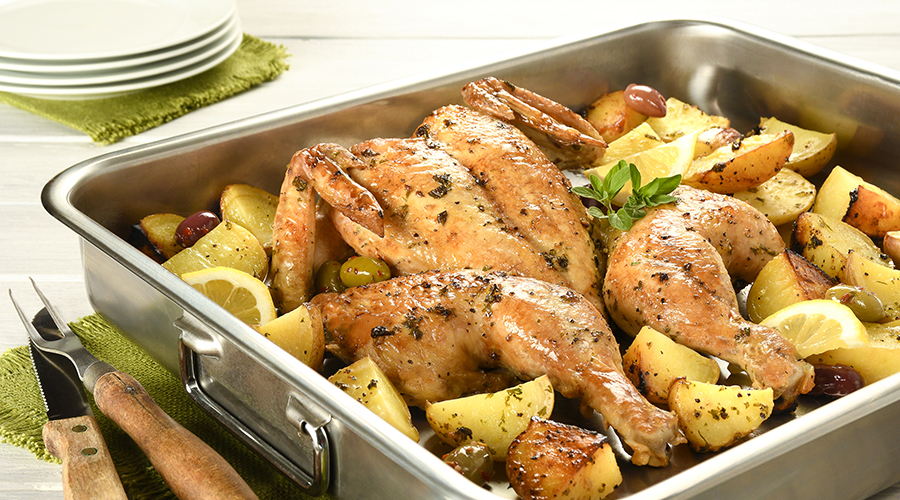 Greek Style Roasted Spatchcock Chicken
Why go out to eat Greek food when you can enjoy it at home? This recipe incorporates all the great flavours of a savoury Mediterranean meal – and all in one pan!
1

4-6

Yukon gold potatoes, cut into large chunks

1/2 cup (125 mL)

Mastro® Extra Virgin Olive Oil

1/2 cup (125 mL)

lemon juice

5 cloves

fresh garlic, minced

2 tsp (10 mL)

salt

1 1/2 tsp (7 mL)

black pepper, coarse

4 tsp (20 mL)

fresh oregano, chopped

1/4 cup (65 mL)

fresh parsley,chopped

1/4 cup (65 mL)

kalamata olives, whole, pitted

1

lemon, cut into wedges
Pre-heat oven to 400°F.
Wash and pat dry Lilydale® Whole Chicken thoroughly. Flatten Lilydale® Whole Chicken by laying it breast-side down, and cutting out the backbone with a pair of kitchen scissors. Remove the tail with the scissors as well. Flip chicken over and with the palm of both hands, press into the center of the breast bone until the chicken flattens. Spread chicken flat and place in a large pan, skin side down.
Wash and cut potatoes into large chunks, leaving skin on and set aside.
Whisk together the olive oil, lemon juice, minced garlic, salt, pepper, and half of the oregano and parsley.
Pour a third of the marinade onto the chicken ensuring to cover the entire back-side. Flip the chicken over and arrange the cut potatoes around the chicken. Pour the remaining marinade over the chicken and potatoes.
Bake for one hour or until the chicken reaches an internal temperature of 165°F.
Garnish with the remaining herbs, kalamata olives and lemon wedges.
Serving Suggestion: Delicious served with a Greek Salad!

Recipe Overview
SERVES: 6
PREP TIME: 30 minutes
COOK TIME: 1 hour
TOTAL TIME: 1 hour 30 minutes
Products in this Recipe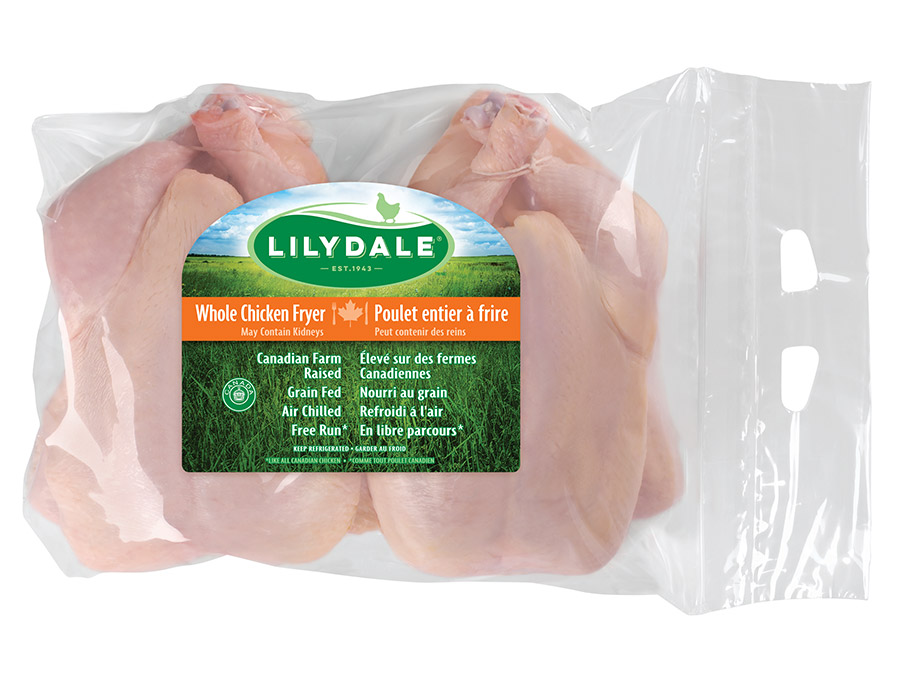 Whole Chicken
More Fresh Chicken Recipes