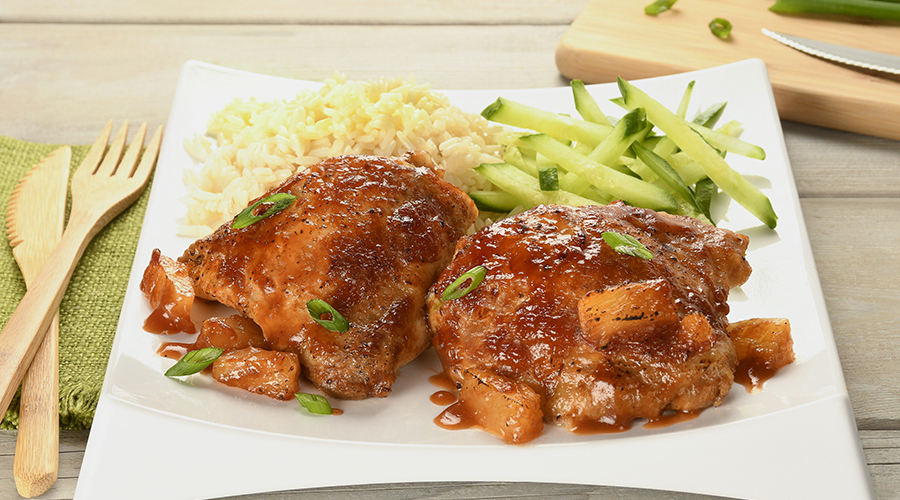 Baked Pineapple Barbecue Chicken Thighs
Add a little sunny holiday flavour into your day with these sweet and spicy chicken thighs! Sweet pineapple tidbits and barbecue sauce make the perfect flavour blend for this succulent chicken dish.
8

3 tsp (15 mL)

Mastro® Extra Virgin Olive Oil

1/2 tsp (2 mL)

garlic powder

salt and pepper taste

1 cup (250 mL)

barbecue sauce

1 can (398 mL)

pineapple tidbits

1

green onion, diagonally sliced
Pre-heat oven to 365°F.
Season Lilydale® Chicken Thighswith garlic powder, and salt and pepper. Set aside.
In a medium-high heat pan with oil, brown both sides of chicken thighs for 4-5 minutes per side.
Spray the bottom of a cooking pan with cooking spray. Place the chicken thighs onto the pan.
In another bowl, mix together barbeque sauce, pineapple tidbits and ½ a cup (125 mL) of the pineapple liquid. Mix together well and pour mixture on top of the chicken thighs.
Cover pan with foil and bake for 45 minutes or until internal temperature reaches 165°F. Remove foil, and turn on broiler. Broil for 5 minutes until sauce begins to brown and bubble. Remove from oven and garnish with green onion.
Serve over rice and a side of match-stick cucumber salad.


Recipe Overview
SERVES: 4
PREP TIME: 15 minutes
COOK TIME: 45 minutes
TOTAL TIME: 1 hour
Products in this Recipe
Chicken Thighs
More Fresh Chicken Recipes