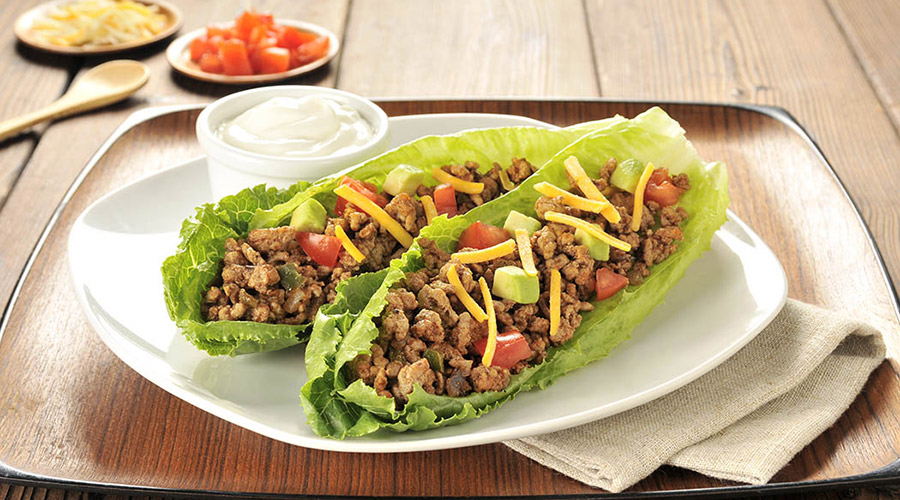 Spicy Turkey Lettuce Tacos
1 package

2 tbsp (30 ml)

Mastro® olive oil

3

cloves garlic, minced

1

jalapeno pepper, finely chopped

½ cup (125 mL)

red onion, finely diced

1 tbsp (15 mL)

chili powder

2 tsp (10 mL)

cumin

1 tsp (5 mL)

paprika

½ tsp (2 mL)

celery salt

½ tsp (2 mL)

pepper

1 tsp (5 mL)

lime juice

1-2 heads

romaine lettuce

2

tomatoes, diced

1

avocado, diced

1 cup (250 mL)

Cheddar or Monterey Jack cheese, shredded

½ cup (125 mL)

cilantro, chopped

1

lime, cut into wedges

½ cup (125 mL)

sour cream
Pour olive oil into a pan at medium high, and add garlic, jalapeno pepper, and onion. Sauté for 2-4 minutes.
Add Lilydale® Extra Lean Ground Turkey Breast, and cook for 7-10 minutes or until an internal temperature of 165°F is reached. Stir in chilli powder, paprika, celery salt, pepper and lime juice. Place turkey mixture into serving dish.
Wash lettuce, and dice tomatoes and avocado. Cut lime into wedges.
To build your Spicy Turkey Lettuce Taco:
Place one to 2 lettuce leaves on top of each other to form a sturdy base.
Sprinkle 2 to 3 tablespoons of turkey mixture along bottom of lettuce. Top with tomato, avocado, cheese, and cilantro. Squeeze lime juice from wedge over taco. Add a dollop of sour cream if desired.
Recipe Overview
SERVES: 4
PREP TIME: 15 minutes
COOK TIME: 15 minutes
TOTAL TIME: 30 minutes
Products in this Recipe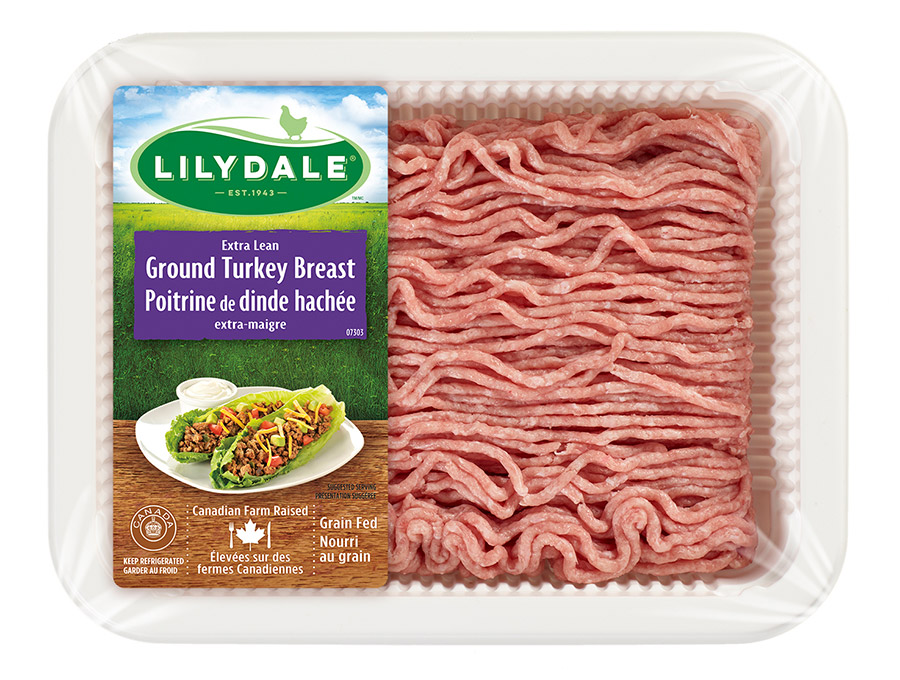 Ground Turkey Breast
More Fresh Turkey Recipes