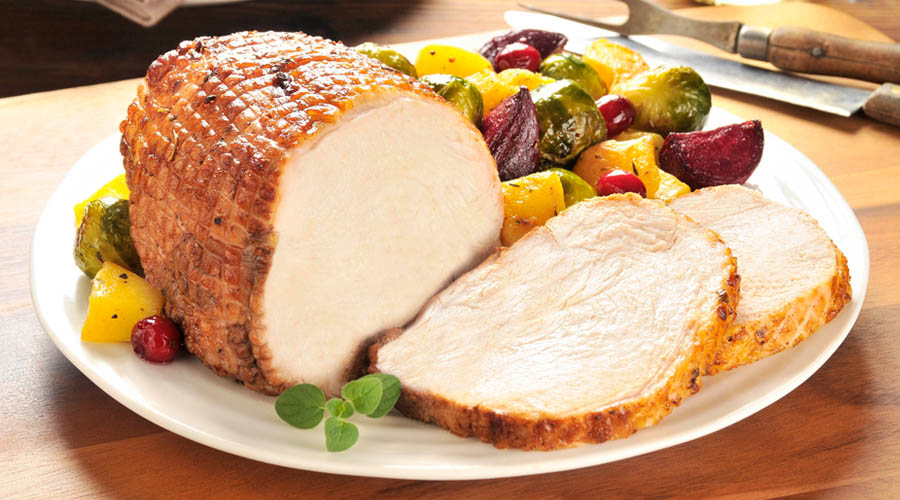 Balsamic and Herb Boneless Turkey Roast with Roasted Vegetables
1

2 cups (500 mL)

brussel sprouts

2 cups (500 mL)

acorn squash, peeled and cubed

1 cup (250 mL)

beets, peeled and cubed

½ cup (125 mL)

cranberries, frozen

2 tbsp (30 mL)

Mastro® Olive Oil

2 tbsp (30 mL)

Mastro® Balsamic Vinegar

½ cup (125 mL)

Water

salt and pepper

Marinade:

½ cup (125 mL)

Mastro® Olive Oil

½ cup (125 mL)

Balsamic vinegar

¼ cup (60 mL)

soy sauce

3 tbsp (45 mL)

brown sugar

2 tbsp (30 mL)

mustard

2

cloves garlic, minced

2

shallots, minced

1 tsp (5 mL)

oregano, dried

1 tsp (5 mL)

rosemary, dried

1 tsp (5 mL)

parsley, dry or freshly chopped

1 tsp (5 mL)

pepper, freshly ground

1 tsp (5 mL)

salt
Place all ingredients for marinade into a bowl, and whisk together thoroughly. Reserve half of marinade. Place other half of marinade and Lilydale® Boneless Turkey Breast and Thigh Roast into a plastic freezer bag, and seal tightly ensuring most of the air is removed. Allow to marinate for 1-3 hours.
Peel and prepare vegetables. Pour olive oil and balsamic vinegar on top of vegetables. Season with salt and pepper.
Pre-heat oven to 325°F. Place vegetables on bottom of roasting pan and pour in half a cup of water. Place roast on top of vegetables and cover with lid or foil. After one hour, add in cranberries, baste the turkey with the reserved marinade, and cook for 30 more minutes or until an internal temperature of 165°F is reached.
Recipe Overview
SERVES: 4
PREP TIME: 30 minutes
COOK TIME: 1 hour and 30 minutes (Marinating Time: 1 - 3 hours)
TOTAL TIME: 2 hours (excluding marinating time)
Products in this Recipe
Turkey Breast Roast
More Fresh Turkey Recipes