Turkey and Butternut Squash Tacos
With maple-roasted butternut squash and ginger-lime red cabbage slaw, these autumn-inspired turkey tacos are a fun meal for a dinner or for entertaining.
1 package (300 g)

3 cups (750 mL)

diced butternut squash

2 tbsp (30 mL)

maple syrup

1 tbsp (15 mL)

cider vinegar

2

cloves garlic, minced

1 tsp (5 mL)

chili powder

1/4 tsp (5 mL)

each salt and pepper

1/4 cup (60 mL)

olive oil, divided

3 tbsp (45 mL)

lime juice

1 tbsp (15 mL)

minced fresh ginger

1 tsp (5 mL)

brown sugar

1 tsp (5 mL)

Dijon mustard

4 cups (1 L)

red cabbage

1/4 cup (60 mL)

dried cranberries

1

jalapeno pepper, seeded and diced

2 tbsp (30 mL)

cilantro, finely chopped

8

corn taco shells, warmed
Preheat oven to 400˚F (200˚C). Toss together butternut squash, maple syrup, vinegar, garlic, chili powder, salt and pepper. Arrange in single layer on parchment paper–lined baking sheet; bake for 15 to 20 minutes or until golden brown and tender.
Meanwhile, in large bowl, whisk together 3 tbsp (45 mL) oil, lime juice, ginger, brown sugar and mustard; add cabbage, cranberries, jalapeño and cilantro, tossing well.
Heat remaining oil in large skillet set over medium heat; heat Lilydale®Oven Roasted Carved Turkey Breast Strips for 5 to 8 minutes or until heated through.
Assemble some of the slaw, butternut squash and turkey in warm corn taco shell. Serve with remaining slaw. Tip
Add avocado or guacamole to tacos if desired.


Recipe Overview
SERVES: 4
PREP TIME: 10 minutes
COOK TIME: 20 minutes
TOTAL TIME: 30 minutes
Products in this Recipe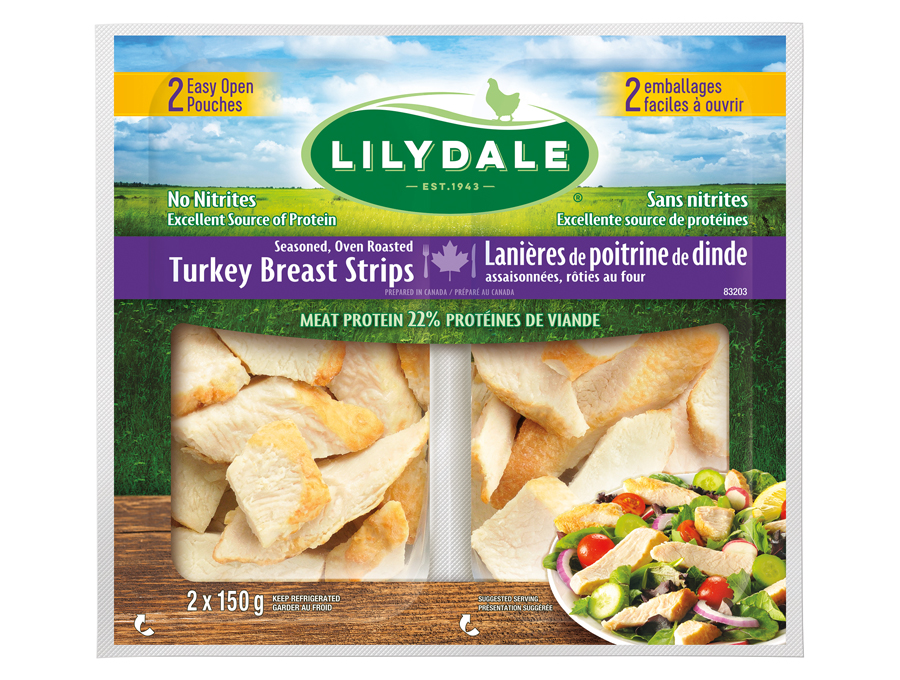 Oven Roasted Turkey Breast Strips