Turkey Flatbread
This gourmet-style flatbread is a perfect appetizer for entertaining – but can also make it for a delicious dinner.
3 tbsp (45 mL)

olive oil

1

small fennel bulb, thinly sliced

1

small red onion, thinly sliced

3

garlic cloves, minced

1 tbsp (15 mL)

fresh thyme, finely chopped

1/4 tsp (1 mL)

crushed fennel seeds

1/4 tsp (1 mL)

each salt and pepper

1/4 cup (60 mL)

fresh basil, finely chopped

1 lb (500 g)

prepared pizza dough

1 cup (250 mL)

shredded mozzarella cheese

1 pkg (300 g)

2 jars (170 g each)

artichoke hearts, drained and chopped

3/4 cup (175 mL)

crumbled goat cheese

1/4 tsp (1 mL)

hot pepper flakes (optional)

2 tbsp (30 mL)

fresh chives, finely chopped
Preheat oven to 425˚F (220˚C); arrange rack in lowest position. Heat oil in large skillet set over medium heat; cook fennel, red onion, garlic, thyme, fennel seeds, salt and pepper for 8 to 10 minutes or until fennel and onion are very tender. Let cool completely. Stir in basil.
Meanwhile, on lightly floured work surface, divide dough in half. Roll out each portion into 6- x 10-inch (15 x 25 cm) rectangle, about 1/4-inch (5 mm) thick. Arrange flatbread crusts on large greased baking sheet.
Spread fennel mixture evenly over each crust. Scatter mozzarella, Lilydale® Oven Roasted Turkey Breast Slices
Bake for 15 to 18 minutes or until cheese melts and crust is golden brown and crisp. Sprinkle with chives. Cut each flatbread into 6 pieces.
Just before serving, sprinkle fresh arugula over flatbreads if desired.
Recipe Overview
SERVES: 6
PREP TIME: 15 minutes
COOK TIME: 30 minutes
TOTAL TIME: 45 minutes
Products in this Recipe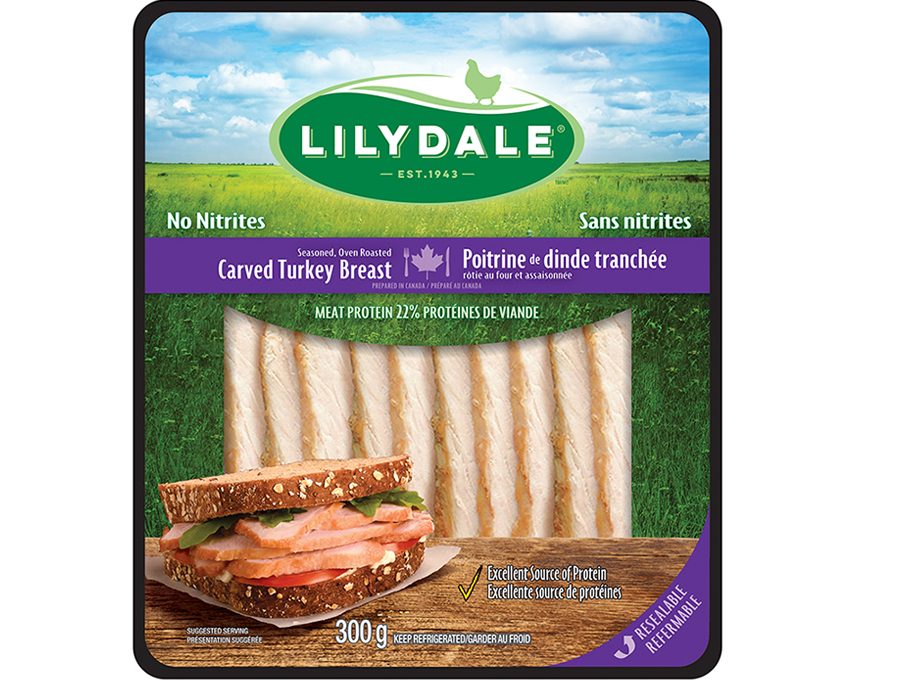 Oven Roasted Carved Turkey Breast