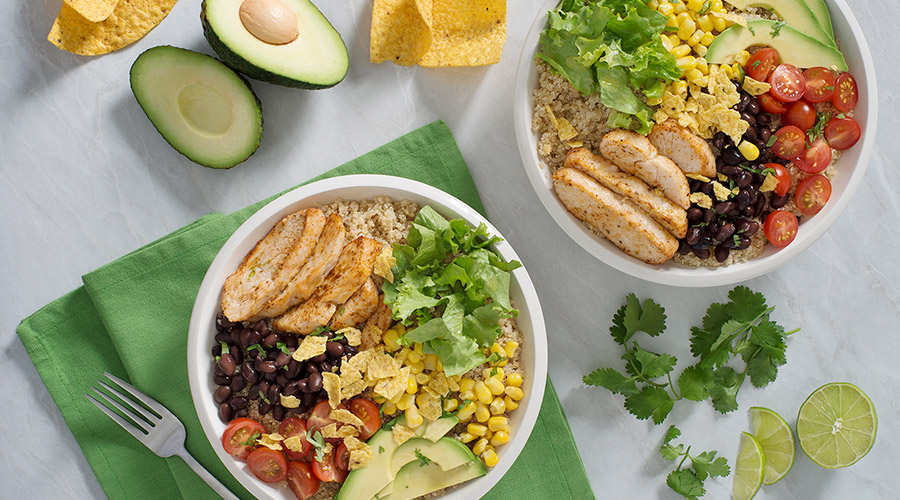 Turkey Quinoa Burrito Bowl
This Tex-Mex power bowl is a healthy and satisfying meal the whole family will enjoy.
1 pkg (500 g)

1/3 cup (75 mL)

olive oil, divided

2 tsp (10 mL)

Tex-Mex seasoning

1 tsp (5 mL)

lime zest

1/4 cup (60 mL)

lime juice

1 1/2 tsp (7 mL)

honey

1

clove garlic, minced

3/4 tsp (4 mL)

ground cumin

1/2 tsp (2 mL)

each salt and pepper

1 cup (250 mL)

quinoa, cooked according to package directions

1 can (540 mL)

black beans, drained and rinsed

1 cup (250 mL)

caned cooked corn, drained

1

ripe avocado, peeled, pitted and sliced

1 cup (250 mL)

cherry tomatoes, halved

1 cup (250 mL)

lettuce, shredded

3/4 cup (175 mL

tortilla corn chips, crushed

2 tbsp (30 mL)

fresh cilantro, finely chopped
Heat 1 tbsp (15 mL) olive oil in large skillet set over medium heat; cook Lilydale® Turkey Breast Fillets with Tex-Mex seasoning for 5 to 7 minutes or until turkey is cooked through. Set aside.
In a bowl, whisk together remaining olive oil, lime zest, lime juice, honey, garlic, cumin, salt and pepper; toss 1 tbsp (15 mL) with cooked quinoa.
Divide quinoa among 4 shallow bowls. Top with cooked Lilydale® Turkey Breast Fillets, black beans, corn, avocado, tomatoes and lettuce. Drizzle remaining oil and lime juice mixture over each bowl; sprinkle with chips and cilantro.
Serve with a dollop of sour cream or yogurt if desired.
Recipe Overview
SERVES: 4
PREP TIME: 15 minutes
COOK TIME: 10 minutes
TOTAL TIME: 25 minutes
Products in this Recipe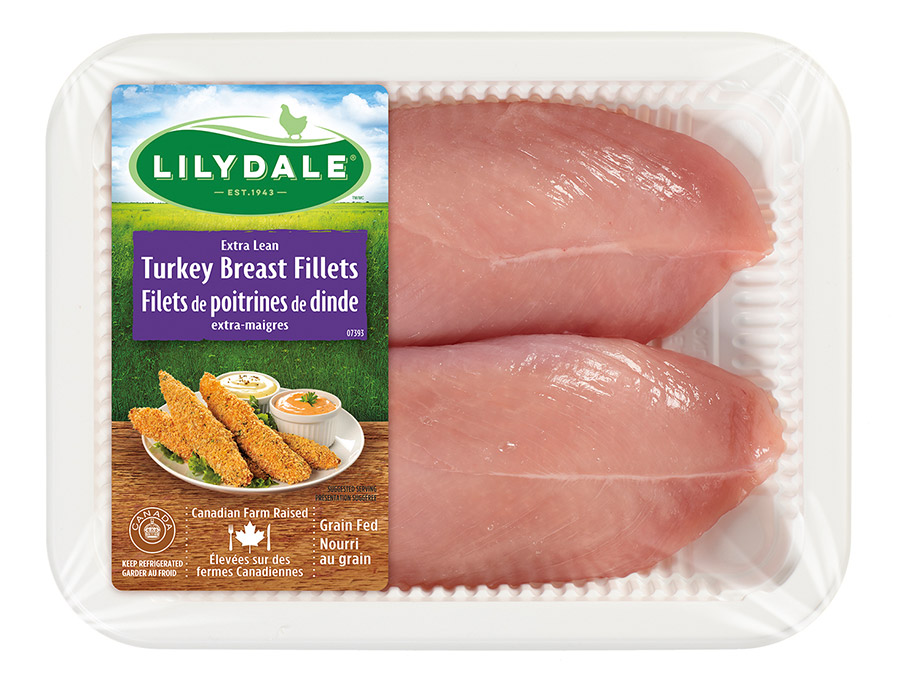 Turkey Breast Fillets