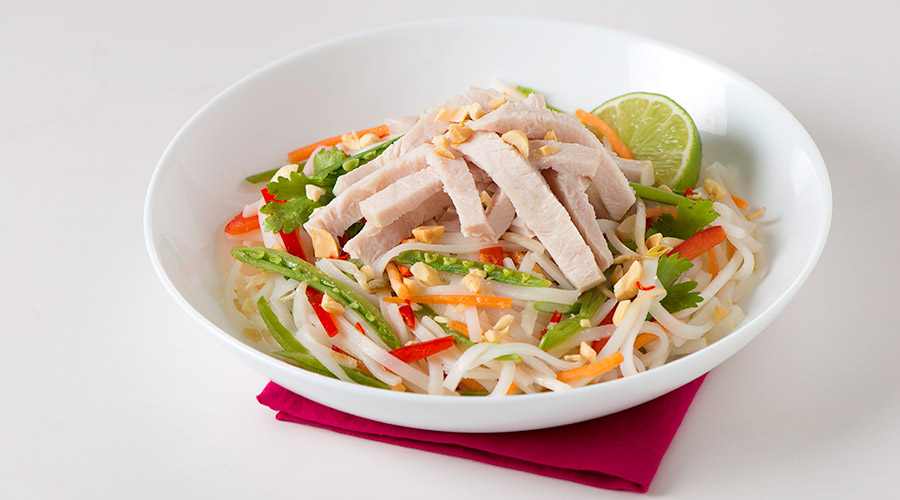 Turkey and Snap Pea Asian Noodle Bowl
1/2 cup (125 mL)

fresh lime juice

1/2 cup (125 mL)

rice vinegar

1/4 cup (60 mL)

fish sauce

1/4 cup (60 mL)

soy sauce

3 tbsp (45 mL)

granulated sugar

4

cloves garlic, minced

1 tbsp (15 mL)

minced ginger

2

Thai chili peppers, seeded and diced

1 1/2 lb (750 g)

broad rice noodles

3

red peppers, julienned

2 cups (500 mL)

snap peas, thinly sliced

4 cups (1 L)

bean sprouts

2 cups (500 mL)

carrots, peeled and julienned

1 cup (250 mL)

thinly sliced green onion

2 cups (500 mL)

fresh cilantro leaves

3 lb (1.5 kg)

1 1/2 cups (375 mL)

crushed unsalted peanuts (optional)

Lime wedges
Whisk lime juice with vinegar, fish sauce, soy sauce, sugar, garlic, ginger and chilies. Set aside.
Place the noodles in a large bowl and cover with boiling water. Let stand for 5 minutes or until tender. Drain well and place under cold water until the water runs clear.
Toss noodles with the dressing, red peppers, snap peas, bean sprouts, carrots, green onion and cilantro. Top each serving with 4 oz (125 g) of Lilydale® Smoked Turkey Breast Roast. Sprinkle with peanuts (if using) and serve with a lime wedge.
Serve in Chinese takeout containers with chopsticks.
Recipe Overview
SERVES: 16
PREP TIME: 20 minutes
COOK TIME: 5 minutes
TOTAL TIME: 25 minutes
Products in this Recipe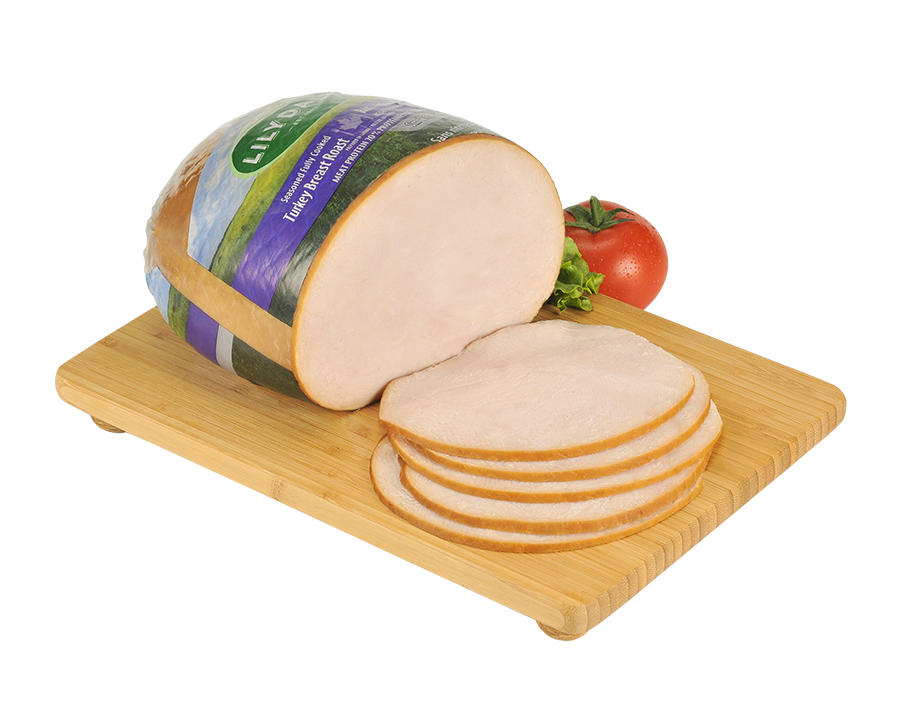 Smoked Turkey Breast Roast