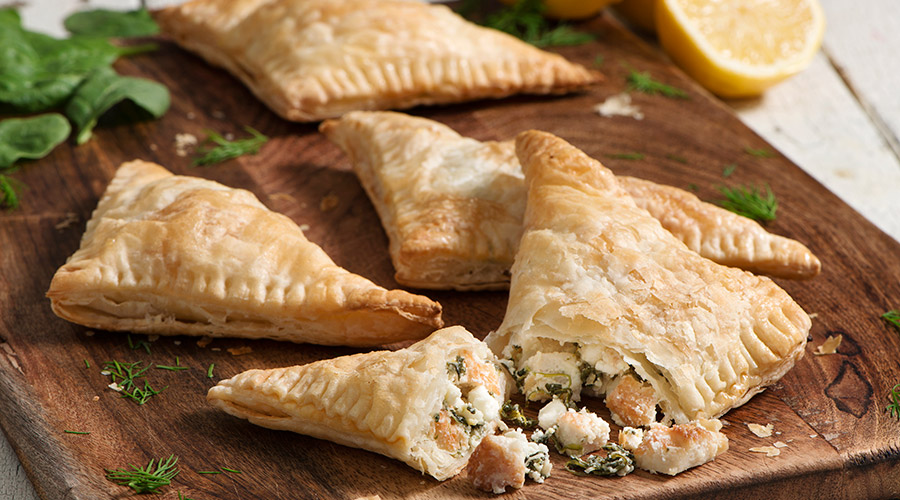 Turkey and Spinach Hand Pies
Made with flaky puff pastry, these savoury hand pies with Greek flavours are perfect for lunch. They also make an impressive delicious appetizer.
1 pkg (550 g)

2 tbsp (30 mL)

olive oil, divided

2

cloves garlic, minced

5 oz (150 g)

baby spinach, washed and dried

1/3 cup (75 mL)

brick-style plain cream cheese, at room temperature

1/3 cup (75 mL)

ricotta cheese

1/3 cup (75 mL)

crumbled feta cheese

4 tsp (20 mL)

finely chopped fresh dill

2 tsp (10 mL)

lemon zest

1/4 tsp (1 mL)

each salt and pepper

2

pre-rolled sheets frozen puff pastry, thawed (each about 10-inches/25 cm square)

1

egg, lightly beaten
Heat 1 tbsp (15 mL) oil in large skillet set over medium heat; cook Lilydale® Turkey Breast Steak for 5 to 7 minutes or until just cooked through. Transfer to plate; let cool completely.
Heat remaining oil in separate skillet set over medium heat; cook garlic for about 1 minute or until starting to soften. Stir in baby spinach; cook for about 3 minutes or until wilted. Transfer mixture to a bowl and let cool completely; squeeze to remove excess moisture. Chop finely.
Preheat oven to 425°F (220°C). Mix together cream cheese, ricotta, feta, dill, lemon zest, salt and pepper until blended. Stir in spinach and cooked Lilydale® Turkey Breast Steak until combined.
On lightly floured surface, cut each sheet of puff pastry into four 5-inch (12 cm) squares. Brush edges of pastry with egg. Place 1/4 cup (60 mL) spinach mixture in centre of each square.
Bring edges of pastry together, folding diagonally into triangles to enclose filling. Seal edges with tines of fork; brush tops with egg wash. Cut two small holes for vents in centre of each hand pie. Place on parchment paper–lined baking sheet, spacing 2 inches (5 cm) apart. Bake for 15 to 20 minutes or until golden brown.
Substitute prepared refrigerated pie pastry for puffed pastry if desired.

Substitute kale or Swiss chard for spinach if desired.
Recipe Overview
SERVES: 4
PREP TIME: 20 minutes
COOK TIME: 25 minutes
TOTAL TIME: 45 minutes
Products in this Recipe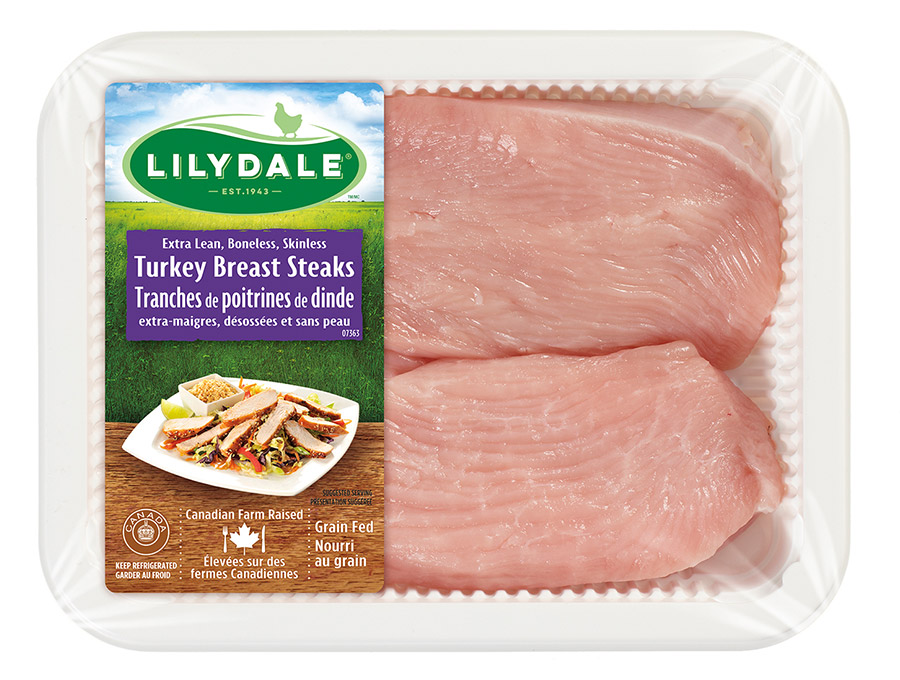 Turkey Breast Steaks
More Fresh Turkey Recipes