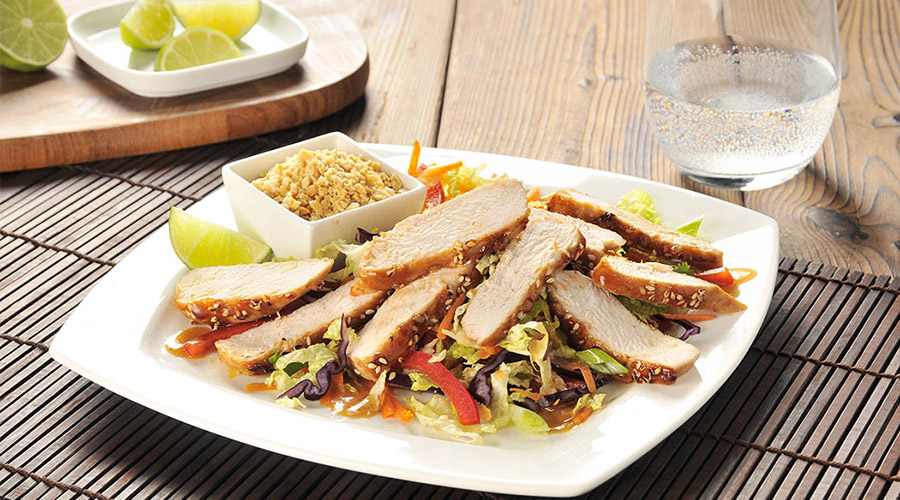 Asian Turkey Slaw Salad
1 package

2 tbsp (30 mL)

butter

2 tsp (5 mL)

sesame seeds

¼ cup (60 mL)

peanuts, crushed

1

green onion, thinly sliced diagonally

Sauce for Turkey:

¼ cup (60 mL)

soy sauce

2 tsp (5mL)

sesame oil

¼ cup (60 mL)

honey

3 cloves

garlic, minced

2 tbsp (30 mL)

ketchup

1 tbsp (15 mL)

brown sugar

2 tsp (5 mL)

ginger, freshly grated

1 tsp (2mL)

sriracha

1 tsp (2mL)

cornstarch

Slaw Salad:

2 cups (500 mL)

nappa cabbage, shredded

2 cups (500 mL)

purple cabbage, shredded

1 cup (250 mL)

carrot, finely shredded

1

red pepper, finely sliced

1

green onion, finely sliced

½ cup (125 mL)

cilantro, chopped

Dressing for Salad:

2 tbsp (30 mL)

vegetable oil

2 tbsp (30 mL)

honey

2 tbsp (30 mL)

rice vinegar

1 tbsp (15 mL)

soy sauce

1 tbsp (15 mL)

peanut butter

1 tsp (2 mL)

sesame oil

½ tbsp (7 mL)

garlic and ginger, minced

½ tsp (1 mL)

sriracha

salt and pepper to taste
Mix together ingredients to make the sauce for the turkey. Melt butter in a skillet over medium high heat and sear both sides of Lilydale® Turkey Breast Steaks until golden. Stir in sauce for turkey.
Remove from skillet and place Lilydale® Turkey Breast Steaks onto a baking tray lined with foil, and drizzle sauce on turkey. Place into a pre-heated 400°F oven and bake for 14-18 minutes or until internal temperature of turkey reaches 165°F.
Remove from oven and sprinkle turkey with sesame seeds.
Assemble salad. Toss thoroughly.
Assemble dressing. Whisk thoroughly.
Pour dressing over salad and toss thoroughly.
Cut turkey into thin strips and serve over salad.
Garnish with crushed peanuts and green onion.
Recipe Overview
SERVES: 4
PREP TIME: 30 minutes
COOK TIME: 20 minutes
TOTAL TIME: 50 minutes
Products in this Recipe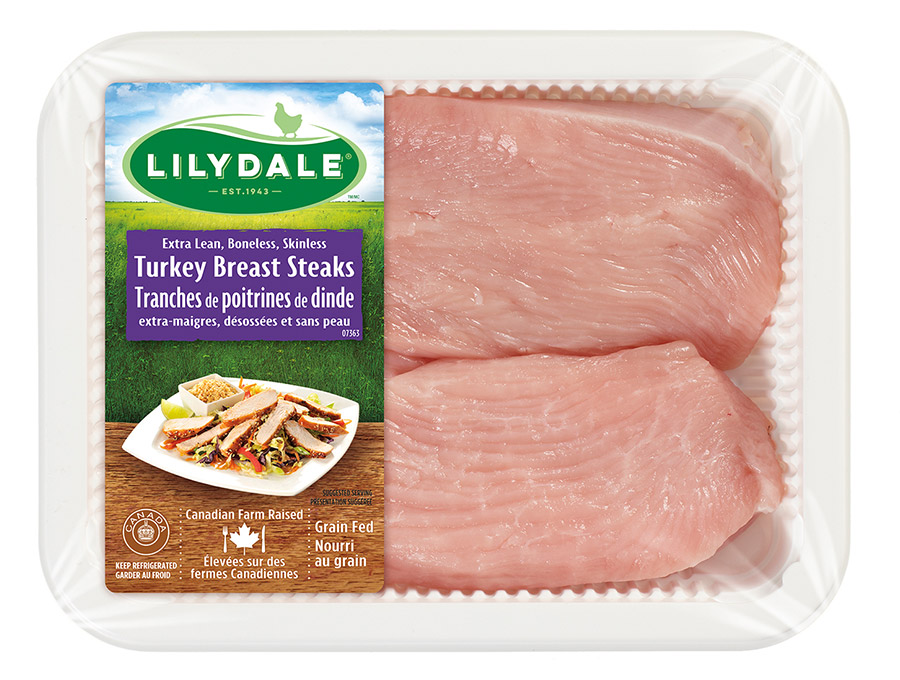 Turkey Breast Steaks
More Fresh Turkey Recipes