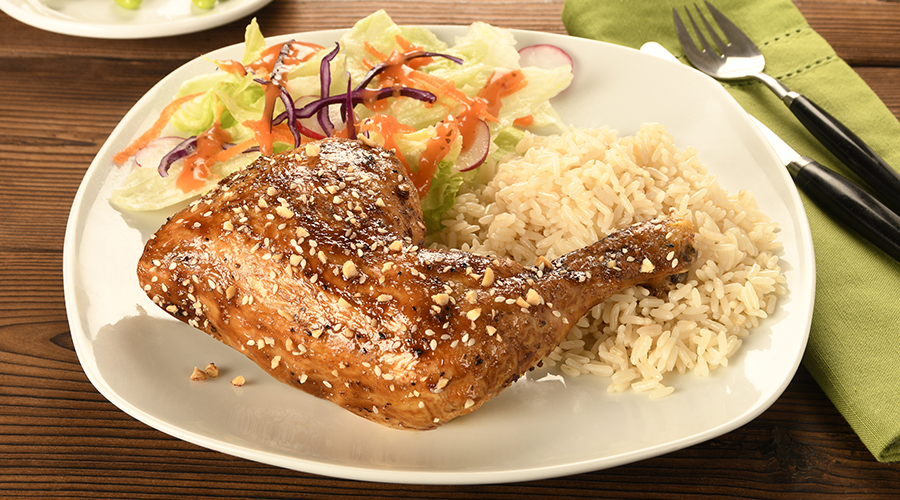 Peanut Teriyaki Chicken
Delight your senses with an Eastern blend of sweet and salty flavours and a bit of crunch! Peanut Teriyaki Chicken made with Lilydale® Chicken Drum and Leg Quarters, get an extra layer of flavour by toasting the crushed peanuts and sesame seeds sprinkled on top. Delicious and so satisfying!
4

4 tbsp (60 mL)

vegetable oil

1 tsp (5 mL)

garlic powder

salt and pepper to taste

1/2 cup (125 mL)

peanuts, crushed

2 tsp (10 mL)

seame seeds

Peanut Teriyaki Sauce:

3 tbsp (4 mL)

peanut butter

1/2 cup (125 mL)

apple cider vinegar

1/2 cup (125 mL)

soy sauce

1/2 cup (125 mL)

brown sugar

3 cloves

garlic, minced

1/2 tsp (2 mL)

chili flakes

1/2 tsp (2 mL)

salt

1/2 tsp (2 mL)

ground black pepper

1/2 cup (125 mL)

water

1 tbsp (15 mL)

cornstarch
Pre-heat oven to 425°F.
Season Lilydale® Chicken Legs with salt and pepper and then coat all pieces thoroughly with vegetable oil. Arrange chicken quarters on a wire rack with a pan underneath. Bake for approximately 45 minutes or until the chicken quarters have reached an internal temperature of 165°F.
Assemble all ingredients for the peanut teriyaki sauce (except for the water and cornstarch), and mix together on a skillet using medium-high heat. Mix the water and cornstarch together in a separate bowl and stir until the mixture is smooth. When the peanut teriyaki sauce starts to bubble, continue stirring while slowly adding the water and cornstarch mixture. Cook and continue stirring until the mixture has thickened. Remove from heat.
When the chicken legs have been removed from the oven, coat each leg with the peanut teriyaki sauce and sprinkle with crushed peanuts and sesame seeds. Place rack and pan with chicken legs back into oven and broil for 5-7 minutes until chicken legs have reached desired browning and crispiness.
Serve with rice, edamame, and garden salad with Carrot and Ginger dressing. Garnish with sliced green onion.


Recipe Overview
SERVES: 4
PREP TIME: 10 minutes
COOK TIME: 45 minutes
TOTAL TIME: 55 minutes
Products in this Recipe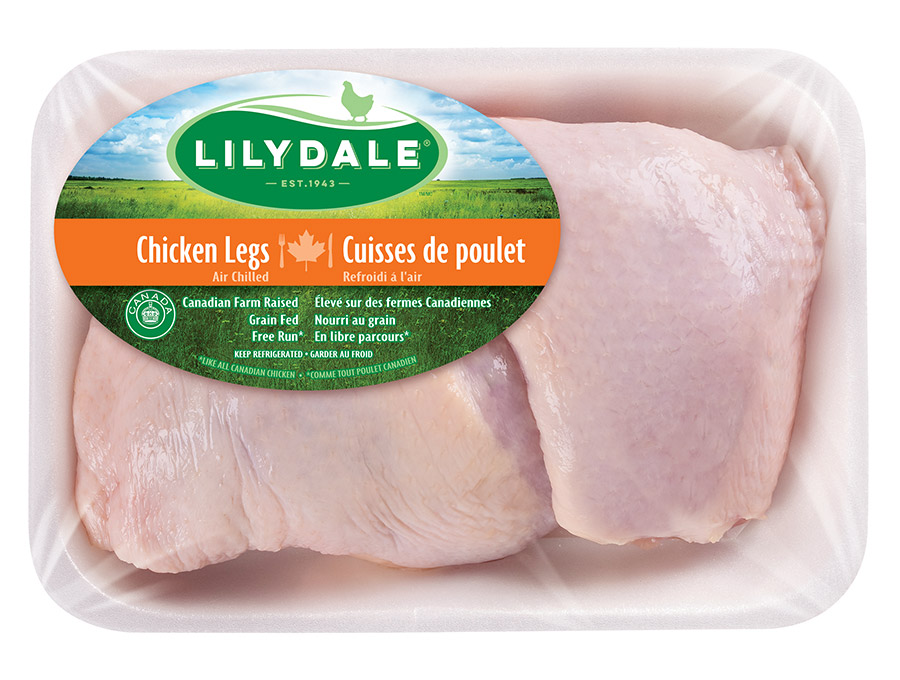 Chicken Legs
More Fresh Chicken Recipes