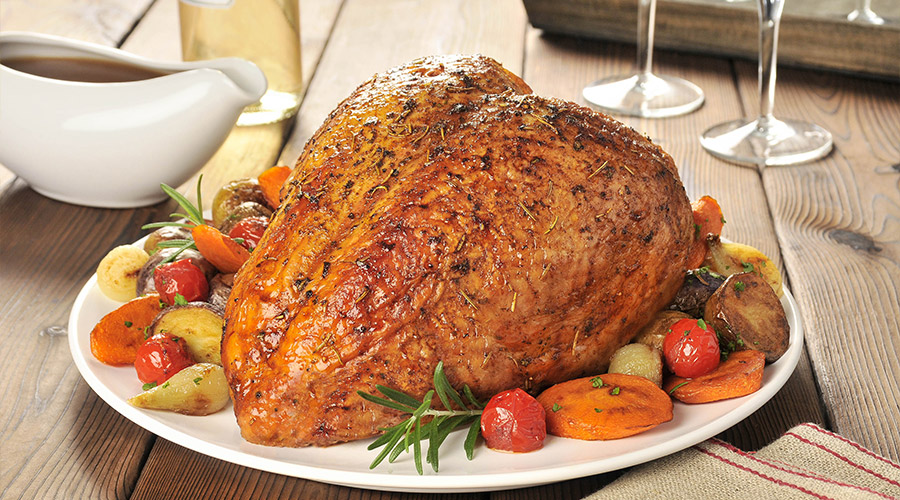 Butter and Herb Turkey Breast Roast
1 package

1 cup (250 mL)

dry white wine

1 cup (250 mL)

water

2

cooking onions, peeled and cut in half

2

celery ribs, whole

5

potatoes, peeled and cut in half

5

carrots, peeled and cut in half

2 cups

pearl onions, peeled

salt and pepper

Turkey Rub:

2 tbsp (30 mL)

Mastro® Olive Oil

½ cup (125 mL)

salted butter, at room temperature

1 tsp (5 mL)

fresh parsley, chopped

1 tsp (5 mL)

fresh sage, chopped

1 tsp (5 mL)

paprika

½ tsp (2 mL)

thyme, dried

½ tsp (2 mL)

rosemary, dried

½ tsp (2 mL)

pepper, fresh ground

½ tsp (2 mL)

salt
Place all the turkey rub ingredients in a bowl and cream together thoroughly with a fork.
With clean hands, rub the butter mixture under the skin of the Lilydale® Turkey Breast Roast, and on top of the Lilydale® Turkey Breast Roast. Any remaining turkey rub can be rubbed on the underside cavity of the breast. Cover Lilydale® Turkey Breast Roast and place in fridge for 6 hours to 24 hours.
Place peeled and halved cooking onions along with 2 whole celery ribs, in the centre of a roasting pan. Place turkey breast on top. Season turkey breast lightly with salt and pepper.
Add white wine and water to pan. Place potatoes, carrots and pearl onions surrounding the turkey.
Place pan into a 325°F pre-heated oven. Cook for approximately 1 hour and 45 minutes, or until turkey has reached an internal temperature of 165°F.
Recipe Overview
SERVES: 6
PREP TIME: 30 minutes
COOK TIME: 1 hour and 45 minutes (Marinating Time: 6 - 24 hours)
TOTAL TIME: 2 hours and 15 minutes (excluding marinating time)
Products in this Recipe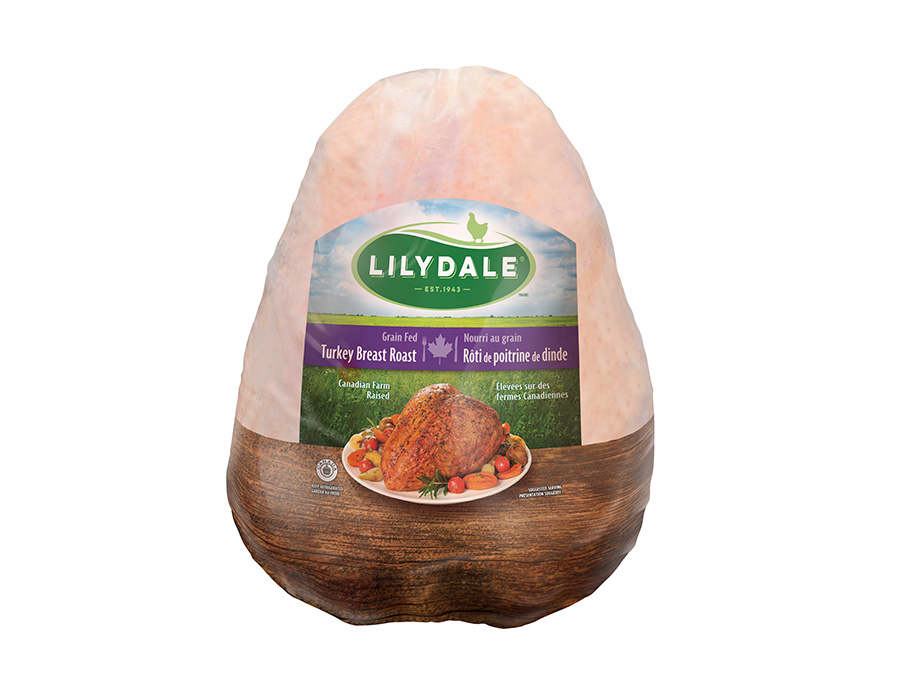 Turkey Breast Roast
More Fresh Turkey Recipes