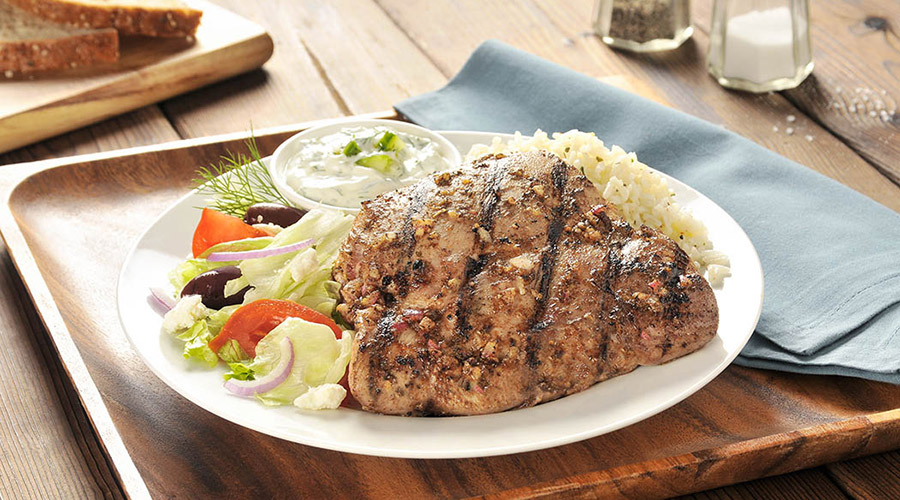 Mediterranean-Style Grilled Turkey Thighs
1 package

Turkey Thigh Marinade:

5 cloves

garlic, minced

5 tbsp (75 mL)

Mastro® Olive Oil

3 tbsp (45 mL)

red onion, finely chopped

1 tsp (5 mL)

lemon zest

½ tsp (2 mL)

paprika

½ tsp (2 mL)

all spice

½ tsp (2 mL)

nutmeg

½ tsp (2 mL)

cardamom

½ tsp (2 mL)

salt

½ tsp (2 mL)

pepper

½ tsp (2 mL)

oregano

1

lemon, juiced

Cucumber Dill Sauce:

2

cloves garlic, crushed

¼ cup (60 mL)

dill, chopped

¼ cup (60 mL)

cucumber, finely diced

1 tbsp (15 mL)

Mastro® Olive Oil

¾ cup (62 mL)

Greek style yogurt or sour cream

½

juice of half a lemon

salt and pepper to taste
In a small bowl, mix together the garlic, olive oil, red onion and lemon zest. Measure and add all spices, and the juice from one lemon. Mix together well.
Place Lilydale® Boneless Skinless Turkey Thighs in a baking pan, and pour marinade over each thigh. With clean hands, rub marinade into both turkey thighs on all sides. Cover and refrigerate for a minimum of 2 hours, and up to 24 hours.
Heat barbecue or grill to medium-high heat. Place thighs on barbecue and cover for 5-7 minutes, then turn the thighs and grill for another 5-7 minutes or until the internal temperature has reached 165°F.
Prepare Cucumber Dill Sauce by mixing all the ingredients together well.
Serve turkey thighs with a side of Greek Salad, rice, or roasted potatoes, and drizzle with Cucumber Dill Sauce.
Recipe Overview
SERVES: 2
PREP TIME: 20 minutes
COOK TIME: 15 minutes (Marinating Time: 2 - 24 hours)
TOTAL TIME: 35 minutes (excluding marinating time)
Products in this Recipe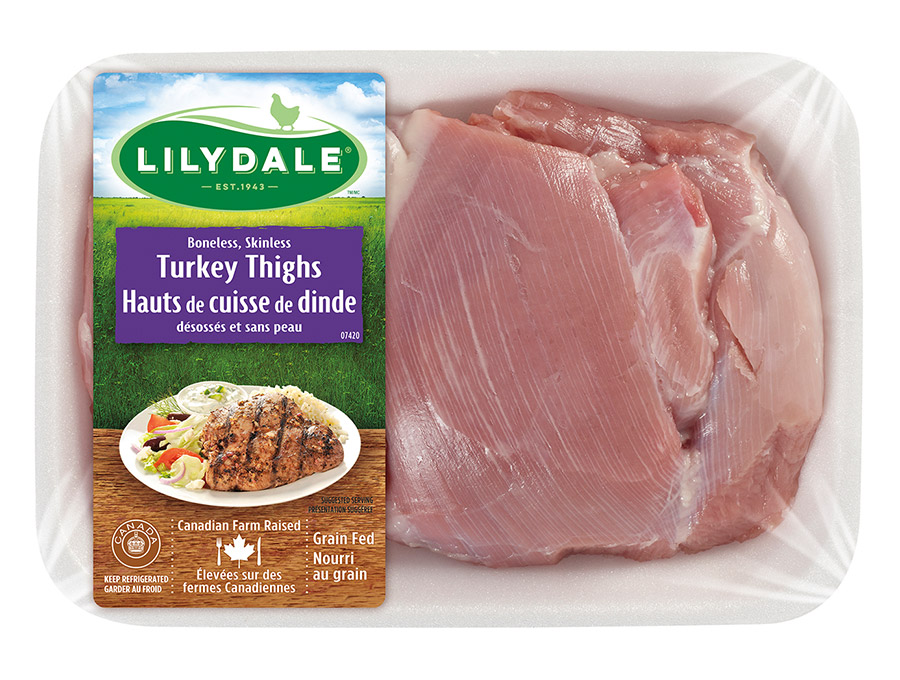 Boneless Skinless Turkey Thighs
More Fresh Turkey Recipes