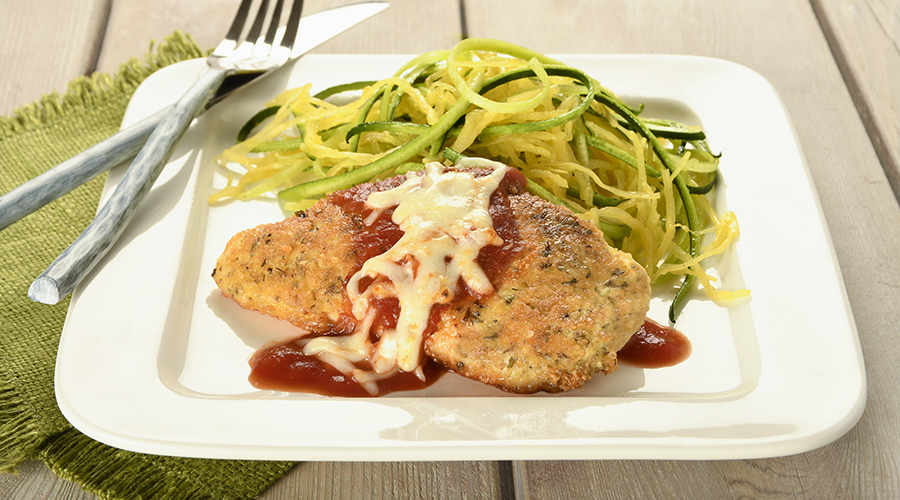 Chicken Parmesan
This version of Parmesan Chicken is both low-carb and Keto-friendly! Make sure to find a sugar-free tomato sauce if you are watching carbs. Use a traditional Marinara sauce for an authentic taste.
2

1/2 tsp (1 mL)

garlic powder

1/2 tsp (1 mL)

Italian seasoning

salt and pepper to taste

2

eggs, beaten

1/3 cup (75 mL)

Parmesan cheese, grated

3 tsp (15 mL)

Mastro® Extra Virgin Olive Oil

1 cup (250 mL)

tomato sauce (or prepared marinara sauce)

1/2 cup (125 mL)

mozzarella cheese, shredded
Pre-heat oven to 375°F.
Beat 2 eggs in a bowl. Cut each Lilydale® Boneless Skinless Chicken Breast in half horizontally, creating 4 cutlets from the 2 breasts. Season with garlic powder, Italian seasoning, and salt and pepper to taste.
Dip each chicken cutlet into the beaten eggs and then into the Parmesan cheese, making sure to coat the entire chicken cutlet. Repeat procedure for each remaining chicken cutlet and set aside.
In a medium-high heat skillet with oil, brown each side of the chicken cutlets for 3-4 minutes. Remove from skillet and place into a baking pan.
Cover each chicken cutlet with 3-4 tablespoons (45-60 mL) of tomato sauce or prepared marinara sauce, and bake in oven for 10-12 minutes or until the internal temperature of the chicken reaches 165°F.
Remove pan from oven and divide mozzarella cheese on top of chicken cutlets. Place back into the oven for 2–3 minutes until the cheese is melted.
Serve with a mound of freshly baked spaghetti squash or zucchini noodles.



Recipe Overview
SERVES: 4
PREP TIME: 15 minutes
COOK TIME: 20 minutes
TOTAL TIME: 35 minutes
Products in this Recipe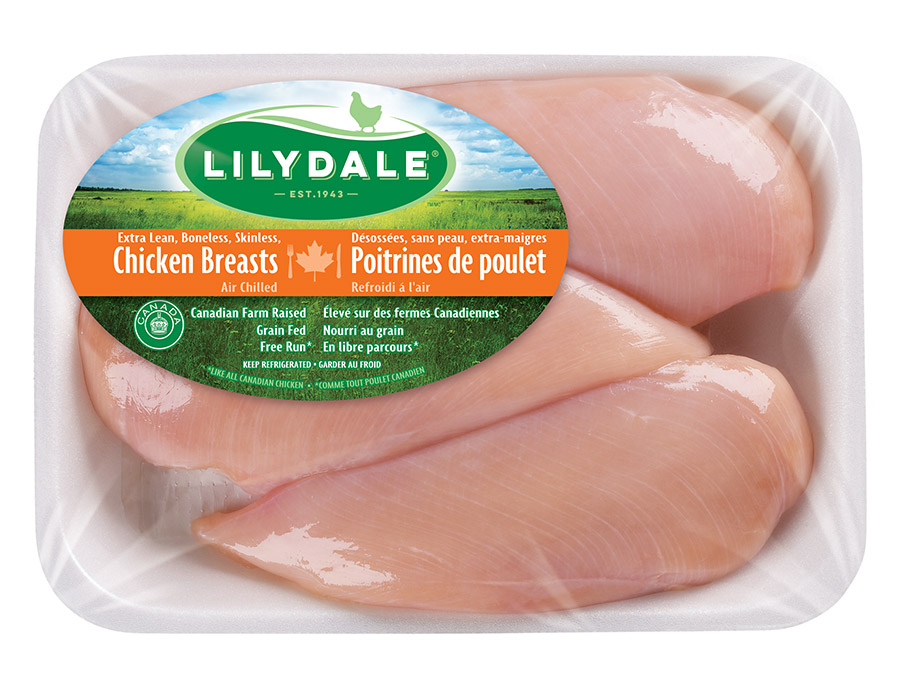 Boneless Skinless Chicken Breasts
More Fresh Chicken Recipes