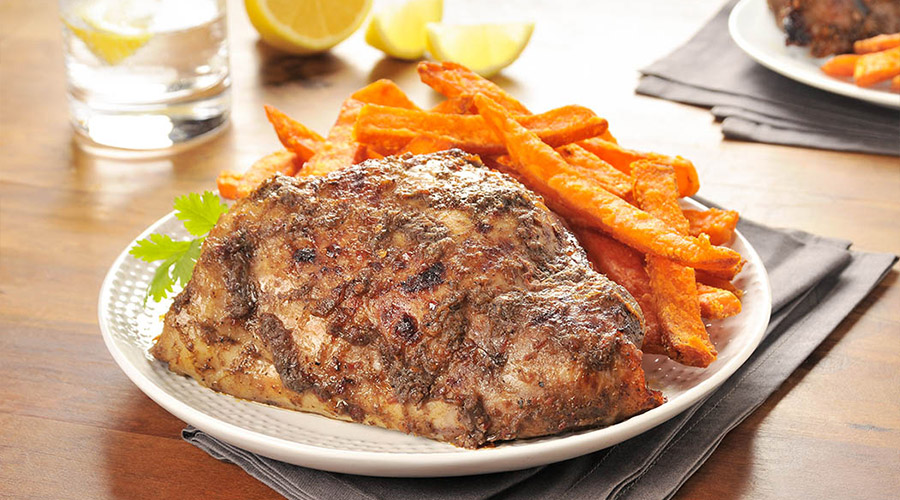 Jerk Turkey Thighs
2 packages

Jerk Marinade:

1 tbsp (15 mL)

brown sugar

1 tbsp (15 mL)

allspice

1 tsp (5 mL)

salt

1 tsp (5 mL)

thyme

1 tsp (5 mL)

cinnamon

½ tsp (2 mL)

nutmeg

½ tsp (2 mL)

pepper

¼ tsp (1 mL)

cayenne

1 tbsp (15 mL)

gingeroot, minced

1 tbsp (15 mL)

garlic, minced

½ cup (125 mL)

onion, finely chopped

1

Jalapeno pepper, finely chopped

½ cup (125 mL)

orange juice

½ cup (125 mL)

apple cider vinegar

¼ cup (60 mL)

soy sauce

¼ cup (60 mL)

Mastro® Olive Oil
Combine all ingredients for Jerk marinade and whisk together well.
Place Lilydale® Turkey Thighs on a plate, and with a knife, make 3 large slits into the top of the skin of each thigh, cutting slightly into the muscle.
Take ¼ cup of marinade per turkey thigh, and using clean hands, rub the marinade into every crevice and onto every surface of the thigh.
Cover and place into fridge. Marinate for a minimum of 30 minutes to an hour (you can marinate this overnight for extra flavour).
Pre-heat oven to 375°F.
Place turkey thighs into a roasting pan skin side up, and cover. Roast for 30 minutes, and then flip the turkey, and roast for another 30 minutes uncovered.
Remove lid or foil, turn turkey over, and pour the remaining marinade on top (you can thin the marinade to the desired consistency with olive oil). Roast the turkey for 10-15 more minutes. Check that turkey has reached an internal temperature of 165°F. Broil on high for an additional 5 minutes to add a crispier texture if desired.
Delicious served with coleslaw and sweet potato fries.
Recipe Overview
SERVES: 4
PREP TIME: 25 minutes
COOK TIME: 1 hour and 15 minutes (Marinating Time: 30 minutes)
TOTAL TIME: 1 hour and 40 minutes (excluding marinating time)
Products in this Recipe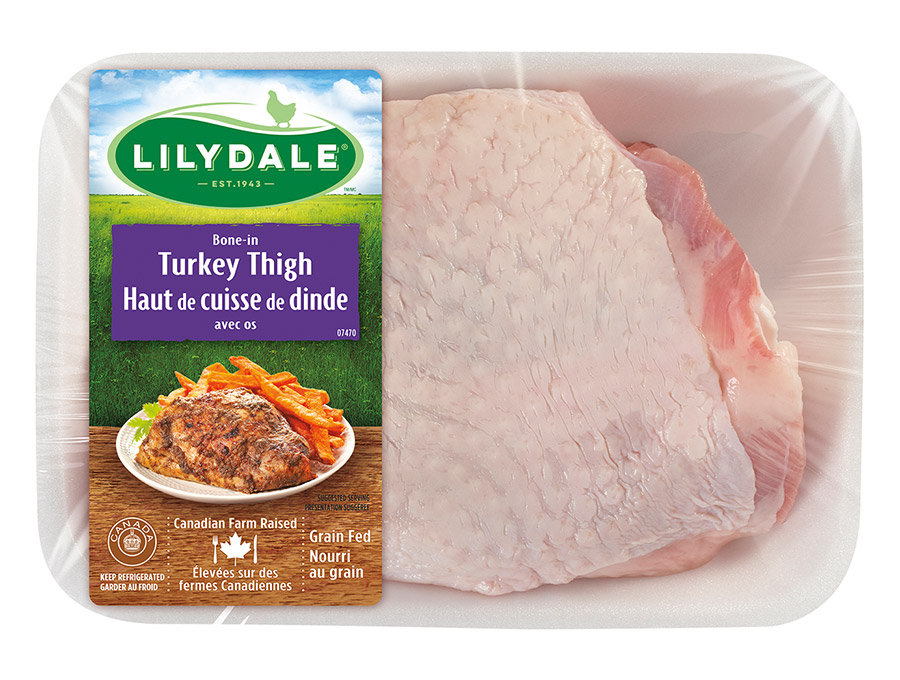 Bone in Turkey Thigh