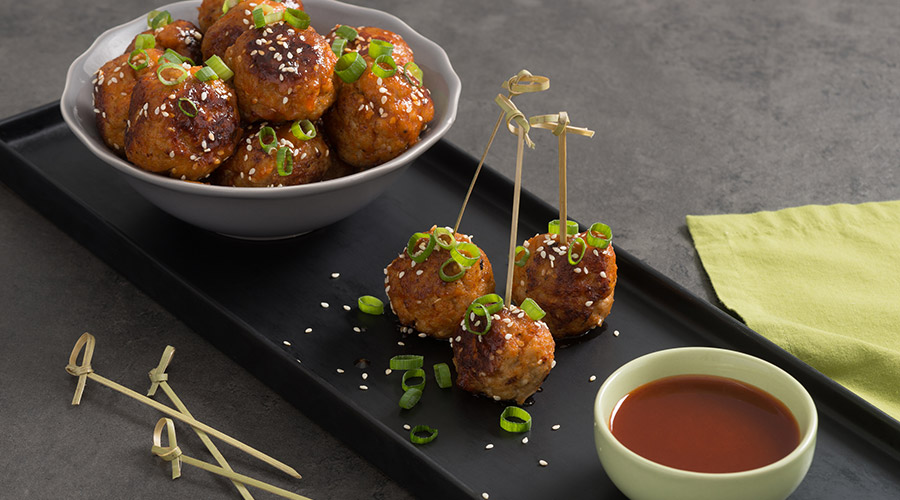 Turkey Meatballs with Sriracha and Honey Glaze
These sweet, sticky and spicy bite size meatballs make a quick and easy appetizer.
1 package (500 g)

1/2 cup (125 mL)

bread crumbs

1

egg

1/4 cup (60 mL)

toasted sesame seeds, divided

2 tbsp (30 mL)

soy sauce

1 tbsp (15 mL)

olive oil

1 tbsp (15 mL)

rice wine vinegar

1 tsp (5 mL)

minced fresh ginger

1

clove garlic, minced

1/2 cup (125 mL)

honey

3 tbsp (45 mL)

sriracha sauce

1/4 cup (60 mL)

chopped green onion
Preheat oven to 400°F (200°C).
In a bowl mix together Lilydale® Ground Turkey, bread crumbs, egg, 2 tbsp (30 mL) sesame seeds, soy sauce, olive oil, rice wine vinegar, ginger and garlic. Shape mixture into 1-inch (2.5 cm) balls and place on parchment paper–lined baking sheet.
In a separate bowl, stir honey with sriracha sauce; brush half of the mixture lightly over meatballs on pan.
Place meatballs in oven and bake, turning and basting occasionally with remaining honey mixture, for 15 to 18 minutes or until cooked through and well glazed.
To serve, skewer meatballs with toothpicks; sprinkle with green onion and remaining sesame seeds.
To toast sesame seeds, place them in a dry skillet set over medium heat, stirring occasionally, for 3 to 5 minutes or until golden brown.
Recipe Overview
SERVES: 6
PREP TIME: 30 minutes
COOK TIME: 15 minutes
TOTAL TIME: 45 minutes
Products in this Recipe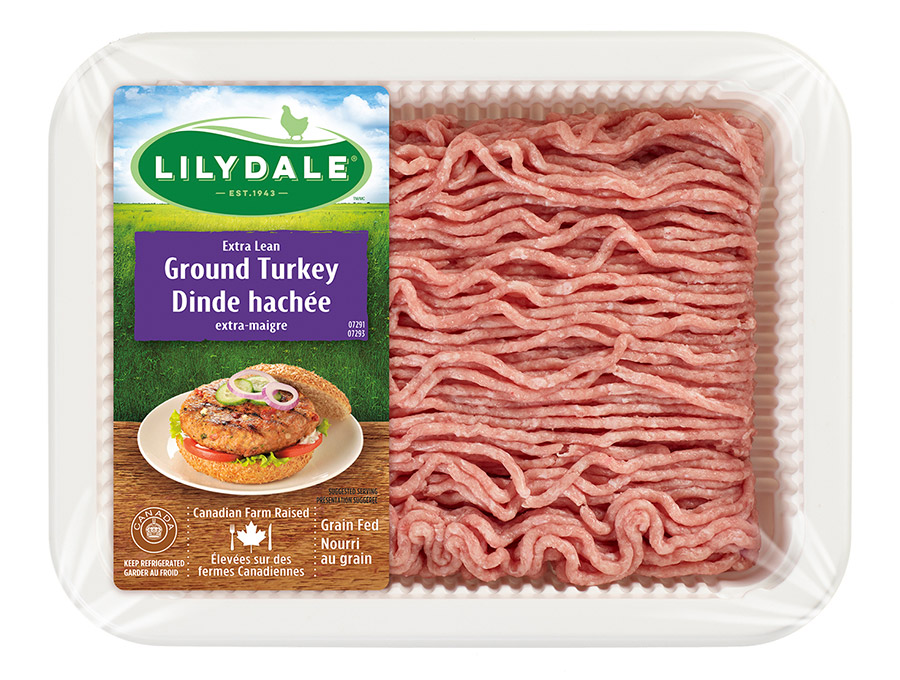 Ground Turkey
More Fresh Turkey Recipes