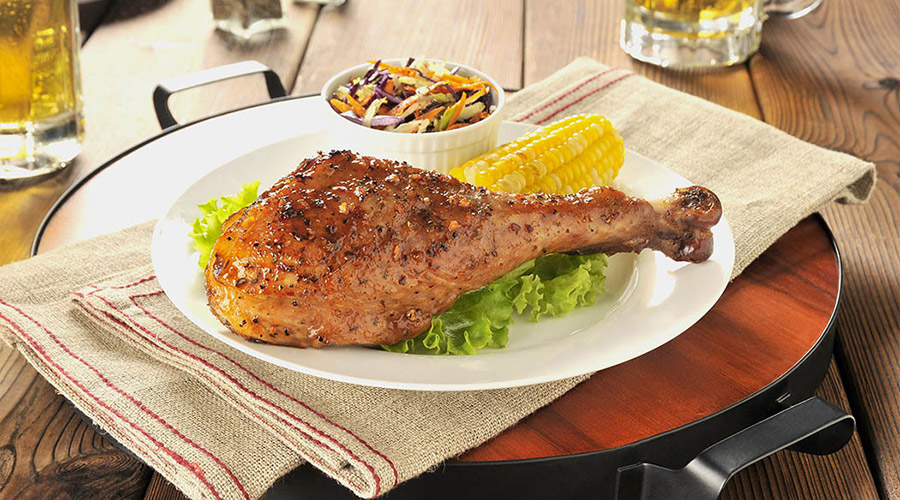 Beer and Cajun Spiced Turkey Drumsticks
4 packages

2 cans

dark Ale

3 cloves

garlic, minced

½ cup (125 mL)

brown sugar

½ cup (125 mL)

honey

½ cup (125 mL)

BBQ sauce

4 tsp (20 mL)

cajun spice

2 tsp (10 mL)

thyme

1

bay Leaf, crushed

1 tsp (5 mL)

salt

1 tsp (5 mL)

peppercorns

¼ cup (60 mL)

vegetable oil
Cream together the garlic, brown sugar, honey, and BBQ sauce. Add spices and stir thoroughly. Slowly stir in the 2 cans of beer and mix well.
Cut 3-4 slits on both sides of the Lilydale® Turkey Drumstick, cutting through the skin, and part way into the muscle.
Place turkey drumsticks into a freezer bag or pan and pour ¾ of the marinade over the drumsticks. Allow to marinate for a minimum of 6 hours and ideally for 24 hours.
Remove drumsticks from marinade, and place onto a foil lined baking tray. Drizzle vegetable oil onto drumsticks and rub in.
Place baking tray into a 375°F pre-heated oven and bake covered for 45 minutes. Remove cover, baste with remaining marinade, and cook for another 45 minutes uncovered or until an internal temperature of 165°F has been reached. Broil on high for 5 minutes if a crispier texture is desired.
Recipe Overview
SERVES: 4
PREP TIME: 20 minutes
COOK TIME: 1 hour and 30 minutes (Marinating Time: 6 - 24 hours)
TOTAL TIME: 1 hour and 50 minutes (excluding marinating time)
Products in this Recipe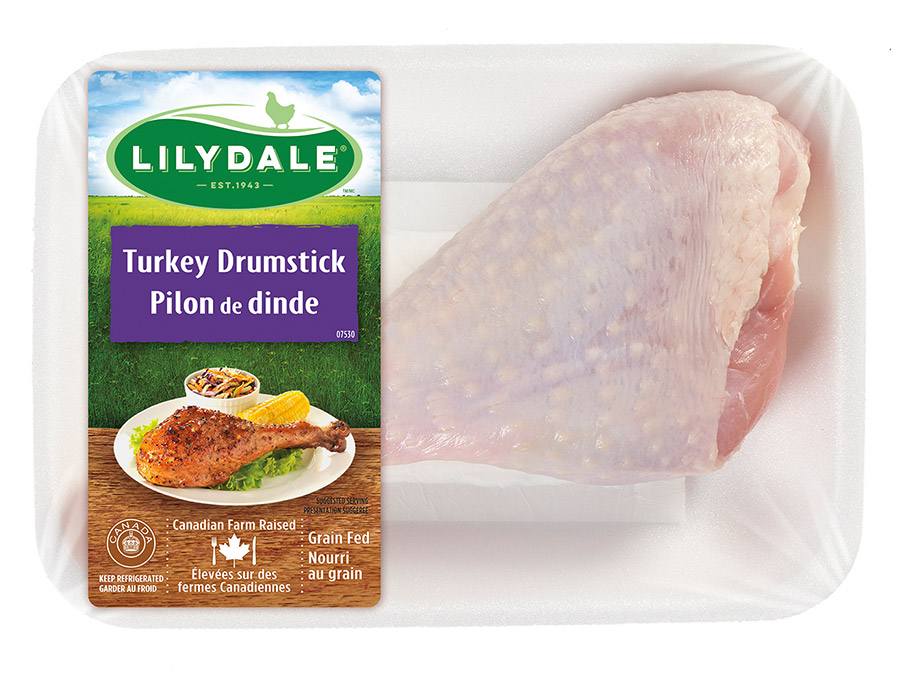 Turkey Drumstick