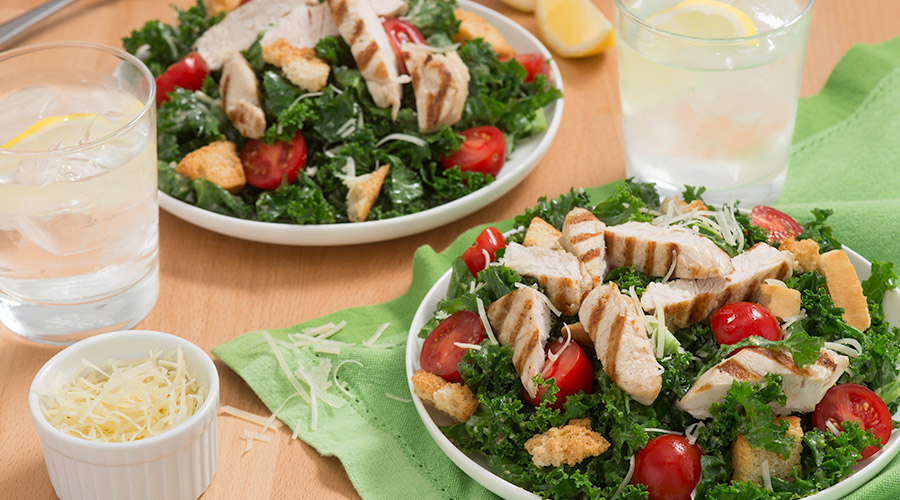 Kale Caesar Salad with Grilled Turkey
Kale makes a nice change from traditional romaine lettuce in this salad. Topped with juicy grilled turkey breast, it's perfect for lunch or a light dinner.
1 package (500 g)

6 cups (1.5 L)

shredded kale, washed and dried

2 cups (500 mL)

cherry tomatoes, halved

1 cup (250 mL)

croutons

1/4 cup (60 mL)

shaved Parmesan cheese

Dressing:

3 tbsp (30 mL)

olive oil

1 tbsp (15 mL)

grated Parmesan cheese

2 tsp (10 mL)

lemon juice

1 tsp (5 mL)

anchovy paste

1 tsp (5 mL)

Dijon mustard

1

clove garlic, minced

1/2 tsp (2 mL)

Worcestershire sauce

1/4 tsp (1 mL)

each salt and pepper

2 tbsp (30 mL)

mayonnaise
Preheat grill to medium-high; grease grate with olive oil. Grill Lilydale® Boneless, Skinless Turkey Breast for about 15 minutes or until internal temperature reaches 165°F (74°C). Let stand for 10 minutes; slice in to strips and put aside.
Dressing: Meanwhile in a bowl, whisk together olive oil, Parmesan, lemon juice, anchovy paste, mustard, garlic, Worcestershire sauce, salt and pepper. Whisk in mayonnaise until smooth. Set aside.
Place kale in large serving bowl and toss with dressing. Arrange sliced Lilydale® Boneless, Skinless Turkey Breast, tomatoes, croutons and Parmesan over kale.
For a traditional Caesar salad, substitute Romaine lettuce for kale.

Dressing can be prepared and refrigerated in a sealed container for up to 1 day.

To save time, substitute store-bought Caesar dressing.
Recipe Overview
SERVES: 4
PREP TIME: 15 minutes
COOK TIME: 15 minutes
TOTAL TIME: 30 minutes
Products in this Recipe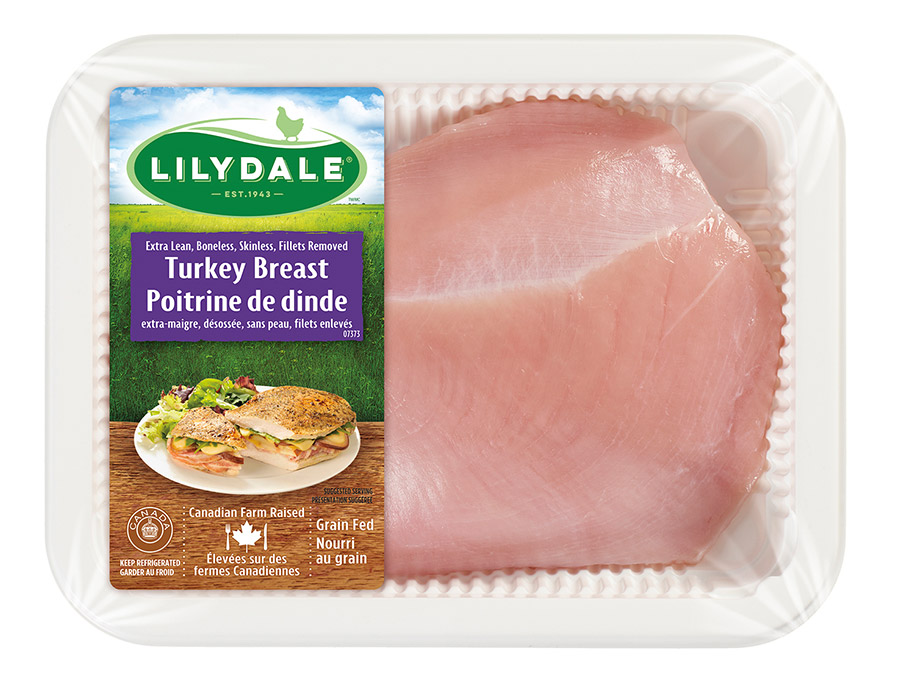 Boneless Skinless Turkey Breast
More Fresh Turkey Recipes