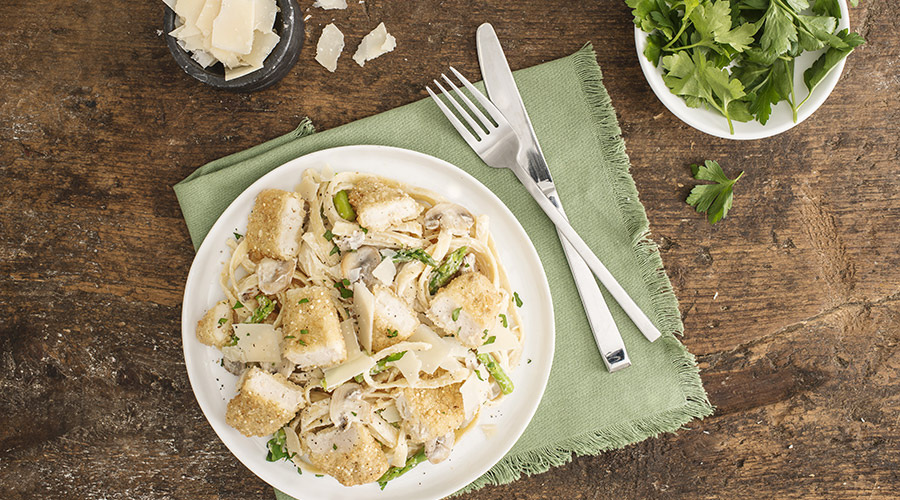 Turkey, Mushroom and Asparagus Pasta Alfredo
A rich and creamy pasta with Alfredo sauce is topped with juicy turkey strips, coated in ancient grains, for a restaurant-worthy dinner that comes together in 30 minutes.
1 box

12 oz (375 g)

fettuccini

2 cups (500 mL)

asparagus pieces (1-inch/2.5 cm pieces)

1/4 cup (60 mL)

butter

8 oz (250 g)

button mushrooms, sliced

2 cloves

garlic, minced

1/4 tsp (1 mL)

each salt and pepper

2 cups (500 mL)

35% whipping cream

1 cup (250 mL)

grated Parmesan cheese

1/2 cup (125 mL)

plain brick-style cream cheese, cubed

2 tbsp (30 mL)

fresh parsley, chopped

Cracked pepper

Shaved Parmesan cheese
Cook fettuccini according to package directions, adding asparagus in the last 2 minutes of cooking; drain and reserve 1/2 cup (125 mL) cooking liquid.
Meanwhile, melt butter in large nonstick skillet set over medium-high heat; cook mushrooms for 7 to 10 minutes or until browned and most of the liquid has evaporated. Add garlic, salt and pepper; cook for 2 minutes.
Stir in cream; bring to simmer. Whisk in grated Parmesan cheese and cream cheese until melted and smooth. Simmer for about 3 minutes or until thickened.
Toss fettuccini and asparagus with sauce. Sprinkle with parsley and remove from heat. Add enough of the reserved cooking liquid, a little at a time, until desired consistency is achieved.
Divide evenly among 6 plates. Sprinkle with cracked pepper and shaved Parmesan cheese. Top with chopped Lilydale® Ancient Grains Turkey Strips on top of each serving. Serve immediately.
Alfredo sauce can become thick very quickly, so once the sauce is cooked, work swiftly to toss with pasta and arrange garnishes, for a luscious and creamy entrée.

Add sliced roasted red peppers and a touch of lemon zest to skillet before removing from heat for a bright, fresh flavour.
Recipe Overview
SERVES: 6
PREP TIME: 15 minutes
COOK TIME: 15 minutes
TOTAL TIME: 30 minutes
Products in this Recipe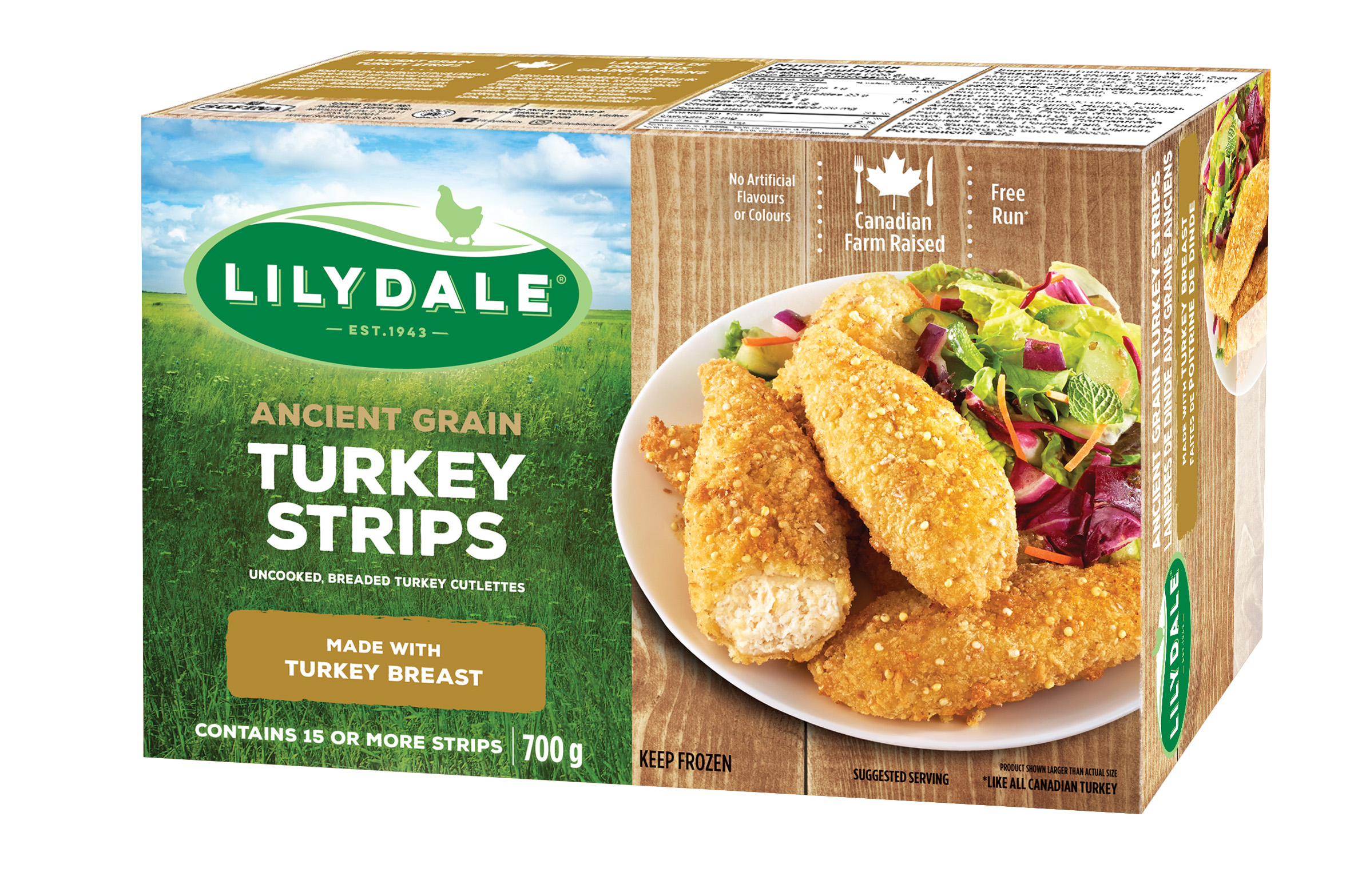 Ancient Grain Turkey Strips